Download vobot German for free!
---
vobot German is your individualized vocabulary trainer app for German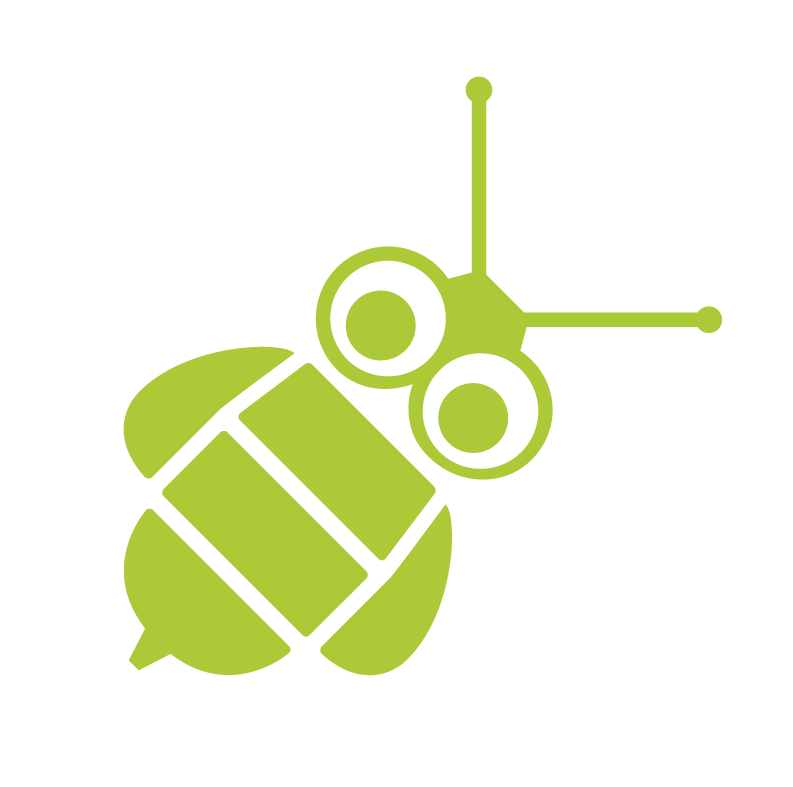 ---
vobot German is…
A dictionary app with exercises that give immediate & objective feedback
Over 30,000 German words with English translations
Nearly 100,000 sample sentences & phrases to practice with
Works offline
No registration required
No advertising
No data collected
Fully individualized, only learn what's relevant to you
Share learned vocabulary with your teacher
Try it out for free with all German words starting with the letter "v"
Unlock the full dictionary for a one-time fee of approx. €28 (exact price depends on your country)
Educators: ask us about our attractive volume licenses!
All the German vocabulary you need for learning levels A1-B2*
---
4 steps to success with vobot German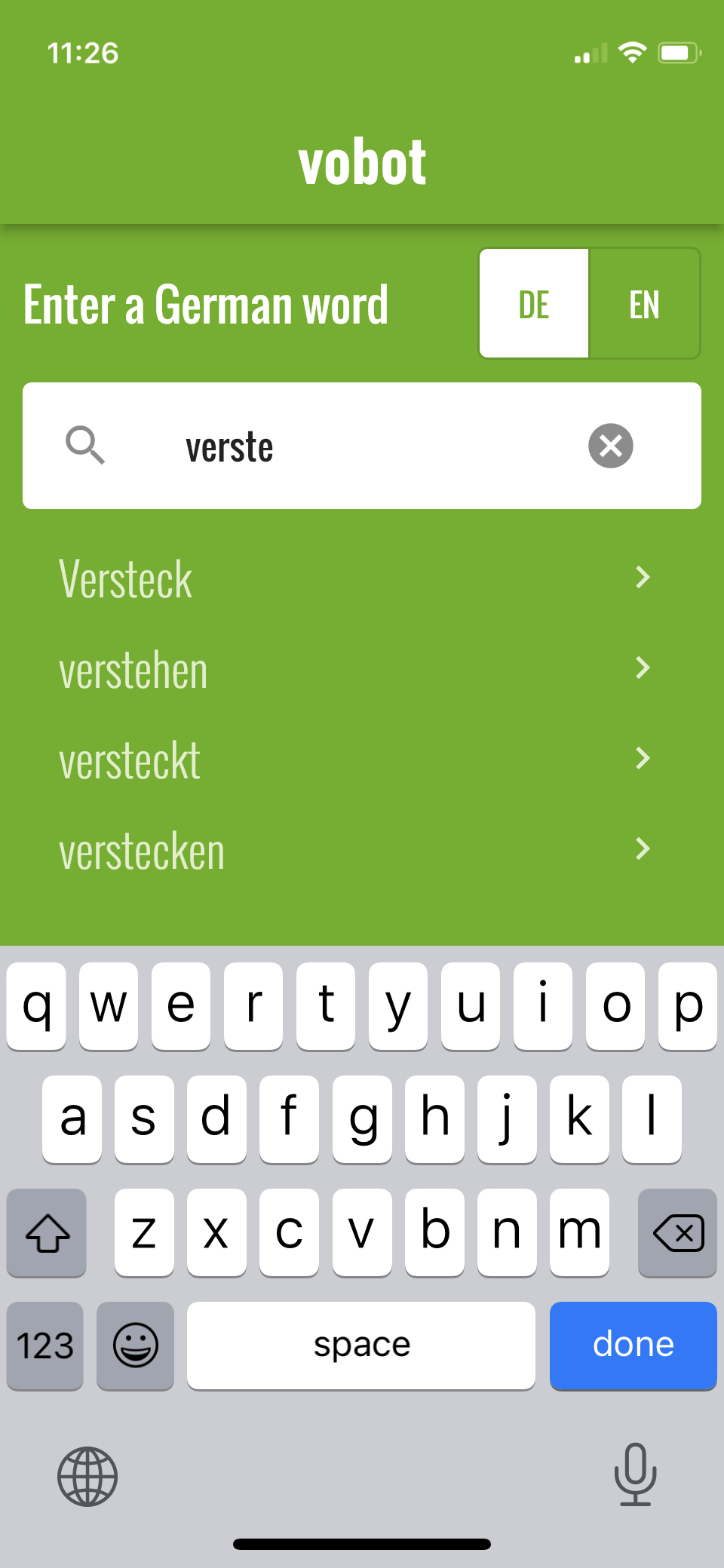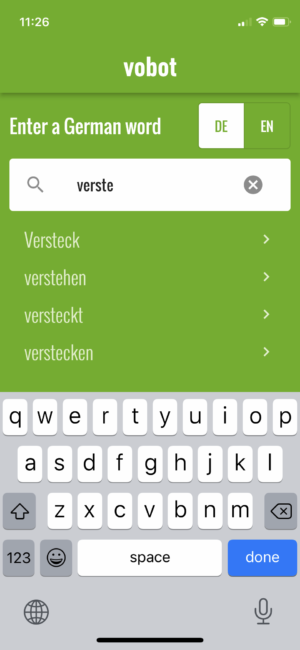 > Search for words you want to learn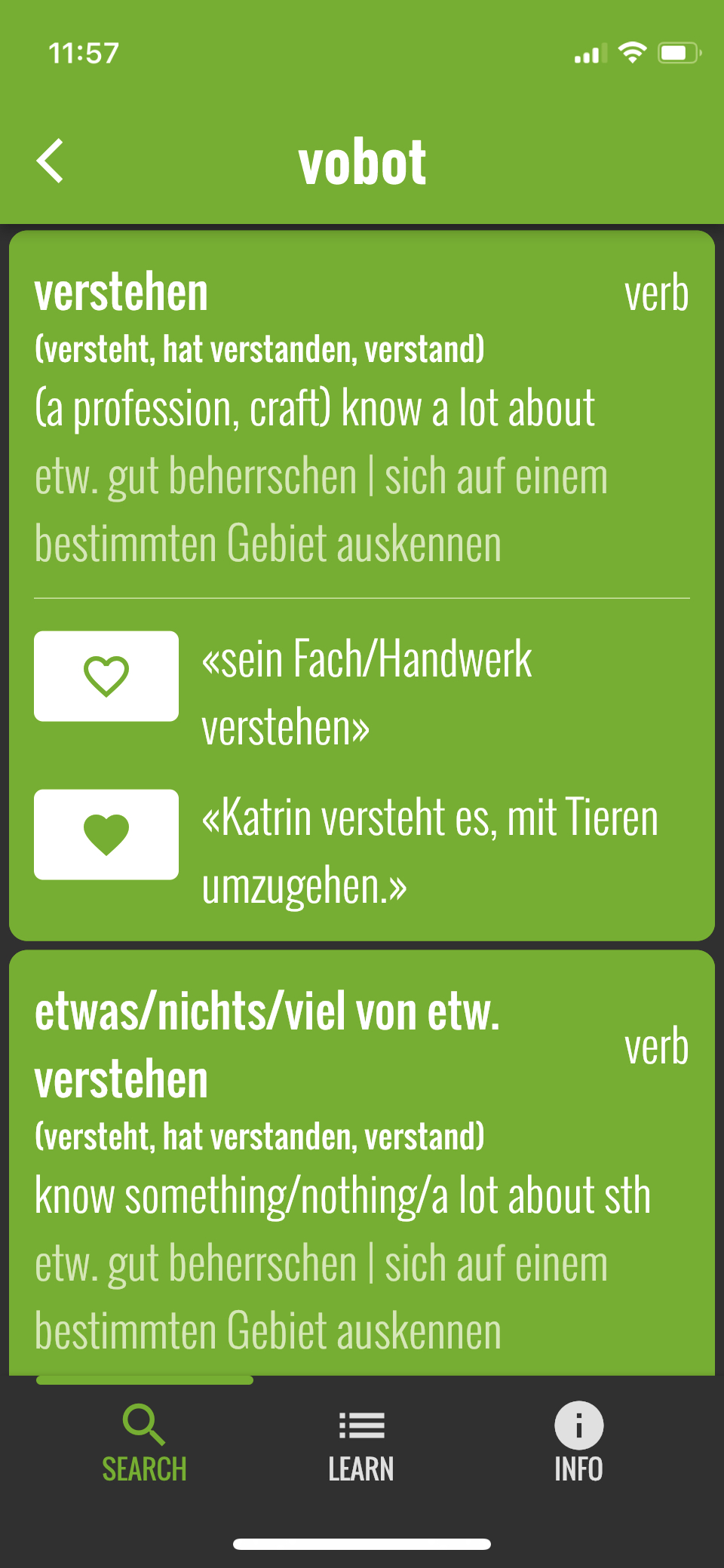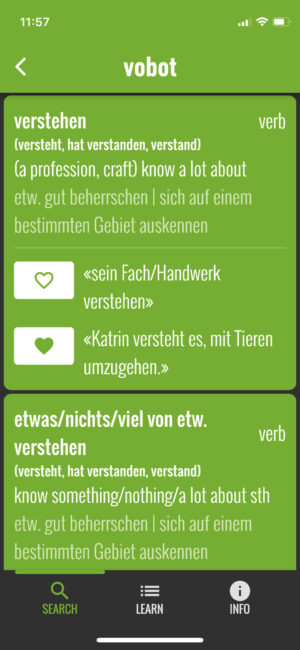 > Choose a definition & sample phrase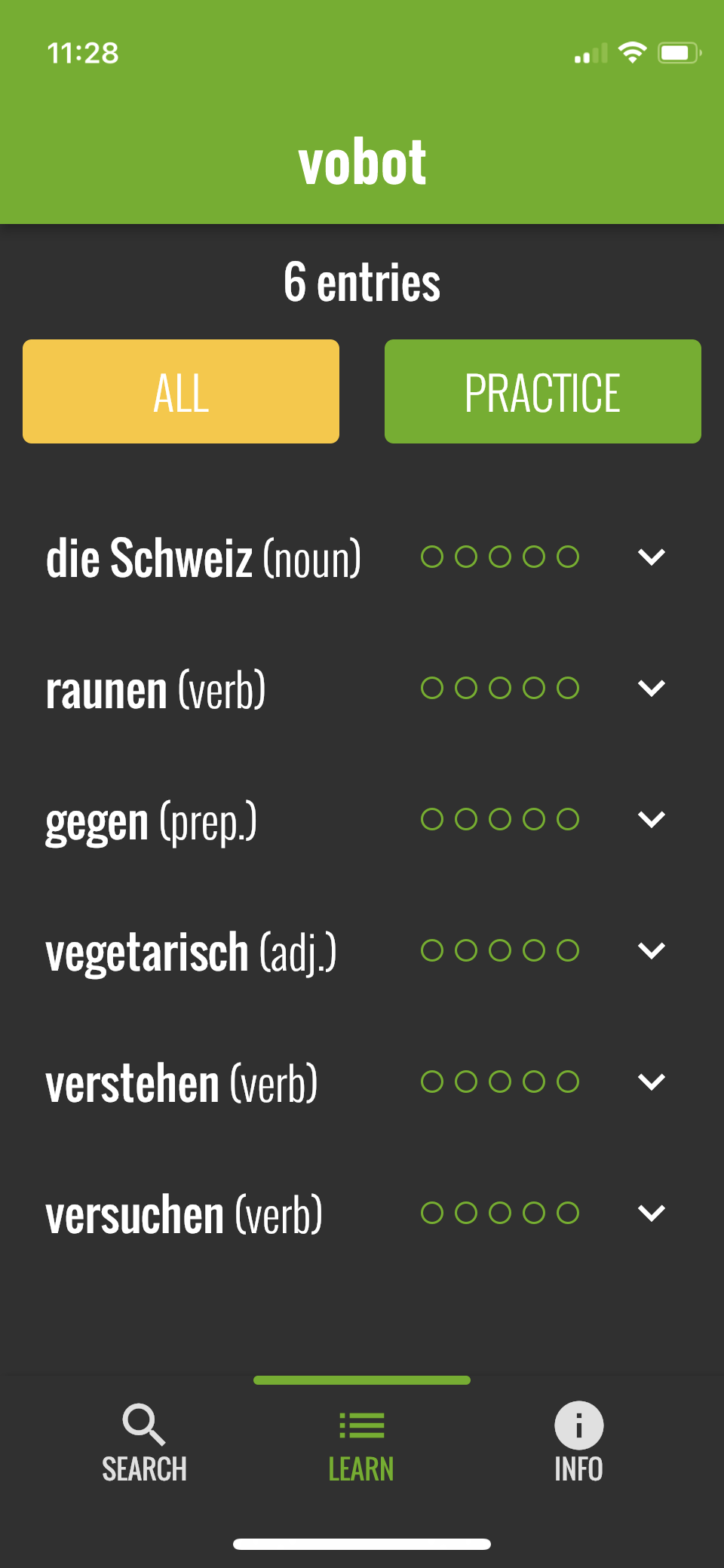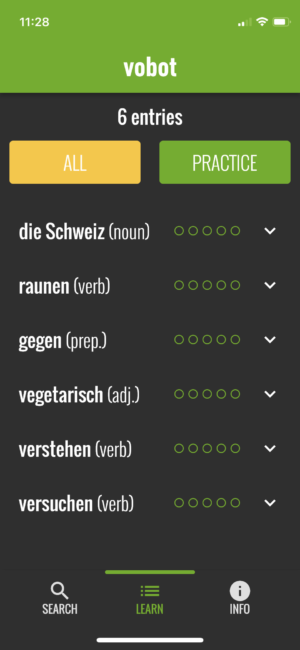 > Review your personal vocabulary list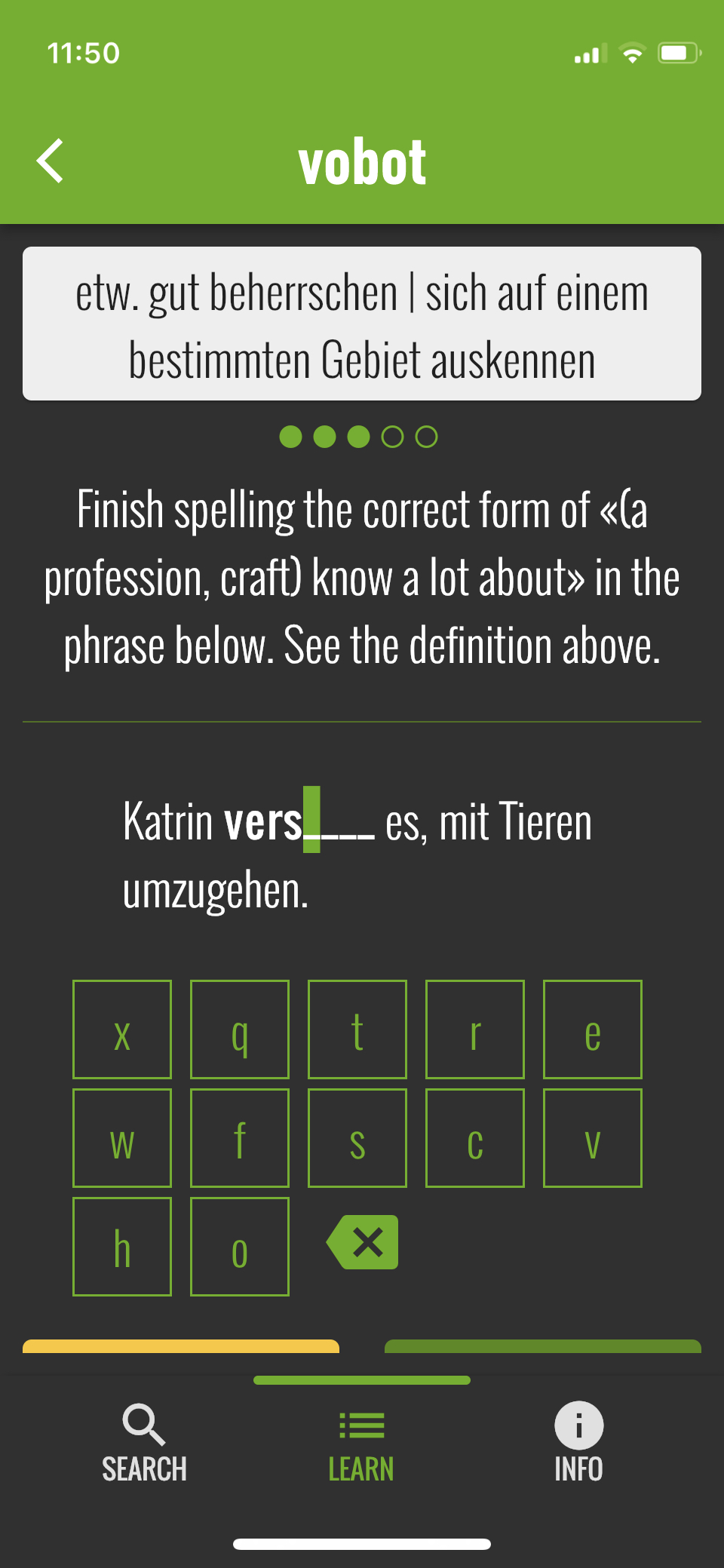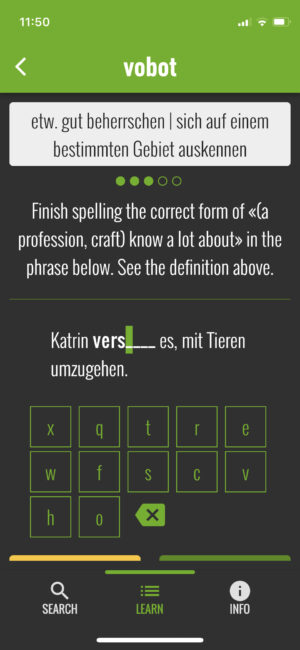 > Learn in a series of exercises just for you
Try the free version now!
---
ARE YOU A LEARNER?
Check out our vobot FAQ.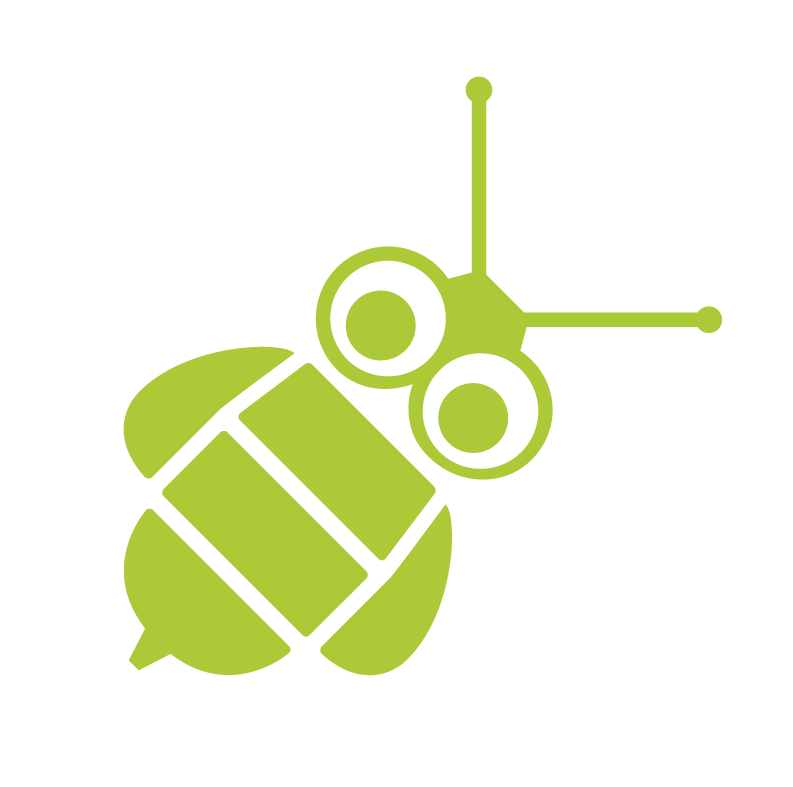 ---
What sets vobot German apart from other vocabulary trainers?
FULLY INDIVIDUALIZED
Add words to your personal learning list that are relevant to you, so you only learn the German vocabulary you need.
CONTEXT-BASED
Every word is learned within the context of an authentic phrase or sentence. This is important because words can have very different meanings depending on the context, e.g. "Er schläft gerade." (He's sleeping at the moment) vs. "Die Linie ist nicht gerade." (The line isn't straight).
TESTS SPELLING
Instead of flash cards that ask you to come up with the answer in your mind, vobot German makes sure you really know the word through a series of increasingly difficult exercises, the last of which requires you to spell the whole word correctly.
MEASURES PROGRESS
Once you answer an exercise, you get immediate feedback if it was right or wrong. You can keep track of your progress by looking at the number of green dots that have been filled next to each entry in your learning list.
SHARE YOUR SUCCESS
Once you have completed all five exercises for a word, including correctly spelling the whole word in the sample phrase, it will be stored in your "Learned vocabulary" list in the INFO section. Share it at any time with your teacher as a PDF file, e.g. via WhatsApp or e-mail.
KEEP YOUR PRIVACY
Using vobot German does not require you to create an account with us and therefore you will not be asked to share any personal information with us directly. We also do not have any advertising in the app. If you upgrade to vobot German Pro, the transaction will go through your Apple or Google account.
VOLUME LICENSES
Alternative to individual purchases, we offer volume discounts to schools. In this case, we would only need the contact details of the teacher or person who is paying. Ask for a non-binding quote for your class or school.
Dictionary by

---
See how vobot German works
Watch our tutorial video that takes you through the different features of the app step by step. In a nutshell, the advantage of vobot German compared to other vocabulary trainers is its mix of:
Learning just the words that are relevant to you
Learning those words in exercises made just for you
Getting immediate feedback whether you are right or wrong
See for yourself in the video!
---
Follow the bee – connect with vobot German on social media
---
Why another vocabulary trainer app?
vobot German is a vocabulary trainer app for Apple & Android devices created by L-Pub, a startup based in Germany. It was developed by passionate language learners who were missing an app with in-context, individualized vocabulary training.
Language learners have been using flash cards to memorize vocabulary for ages. vobot German takes flash cards to the next level because it always gives you immediate feedback on your answers and uses a series of exercises that get increasingly difficult as you progress. Imagine creating a personalized vocabulary list that you can interact with on the fly in a playful and intuitive way. It's a great way to really make those words stick!
What used to be a tedious chore – learning German vocabulary – just got a whole lot more exciting!
Why the bee?
The bee was inspired by the American tradition of the "spelling bee", a spelling contest common in many schools. So, yes, spelling is important to us! One of the unique features of vobot German is that it requires you to fully spell a word before it is considered successfully learned.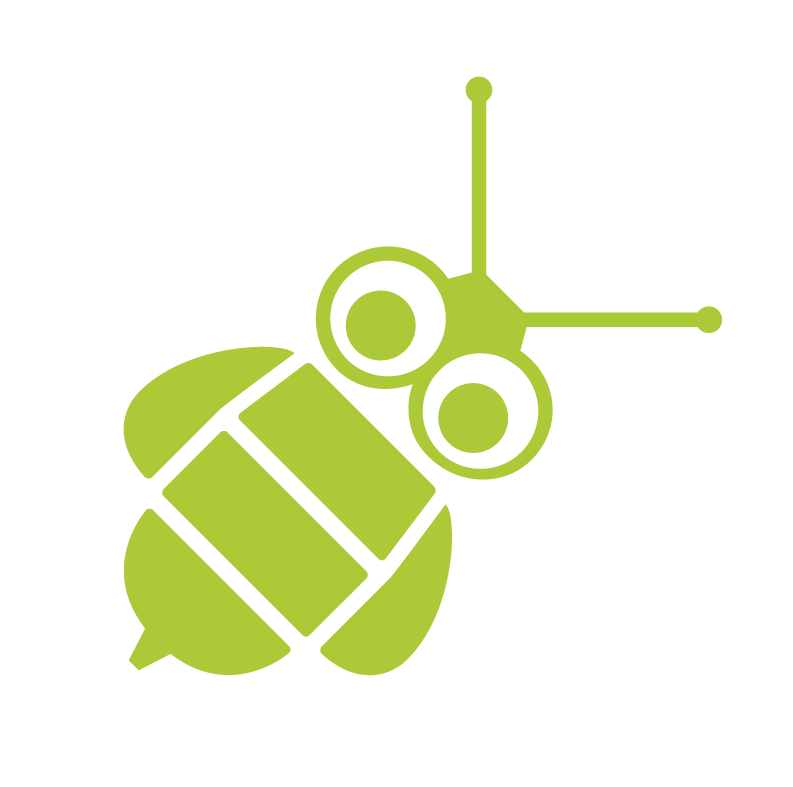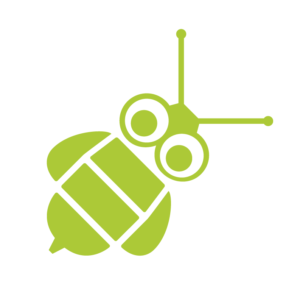 ---
How to use vobot German
vobot German is designed to support learners in building their receptive German vocabulary. You just type in a word that you want to understand or translate, and vobot shows you the possible meanings. You can even enter the inflection of a verb like "wäre" and it will point you to "sein".
Click the heart to add any word you want to practice to your learning list. It will be added together with the corresponding sample phrase in the entry. You can then commit those words to memory with a set of exercises that increase in difficulty from multiple choice to full spelling of the word.
vobot German can be used in class or at home. One of the big advantages is that vobot German immediately tells learners if they answered an exercise correctly.
The other big advantage is that words are always learned in connection with a sentence or phrase – not as an isolated word out of context. That makes words easier to remember and also connects them with the right use and meaning.
At L-Pub, we believe that learning is most successful when it happens in a meaningful and relevant context.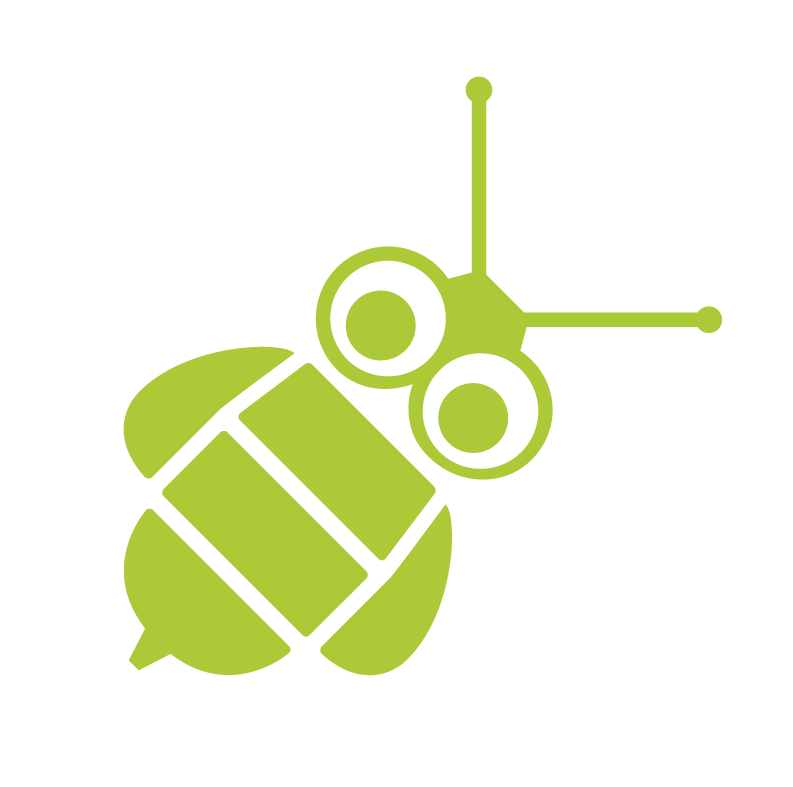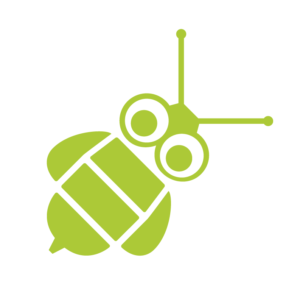 What dictionary is behind vobot German?
Besides all the sophisticated coding that goes into making vobot German seem so simple, another core element is the words, translations, definitions and sample sentences from the Hueber Learner's Dictionary German-English / English-German, ISBN 3-19-101736-1, which includes over 30,000 German words with unique English translations.
Hueber is one of Germany's most important publishers of learning materials for German as a foreign language.
L-Pub is honored to have been able to work with their data to create vobot German. The data have been provided with kind permission by Hueber Verlag, Baubergerstr. 30, 80992 Munich, Germany.
What vobot German is not
Used only by itself, vobot is not going to teach you German. To learn any foreign language it is essential to expose yourself to the language in as many ways as possible. Plus, it's extremely important to also take lessons with a trained teacher as well as practice speaking with other learners and native German speakers.
That said, vobot German is a great way to learn vocabulary faster and more efficiently. With a broader vocabulary base you will feel more confident when using German in other settings like the classroom or when traveling.
---
Download vobot German for free
---
Other offers for German learners
*More about learning levels A1-C2
The definition of foreign language learning levels has been standardized by the "Common European Framework of Reference for Languages" (CEFR). Beginners start at level A1 and work through levels A2, B1, B2, C1 and C2 to achieve proficiency. These levels represent important milestones and can be measured with official language learning tests, such as those performed by telc or Goethe-Institut. When applying for a job in which good knowledge of a foreign language is expected, an employer may specify that level B2 German is required. To become a German citizen, level B1 must be certified through a test. vobot helps you learn all the vocabulary you need to reach up to B2, but also includes thousands of words from levels C1 and C2.