Mini-Geschichten für Sprachlerner'innen 
---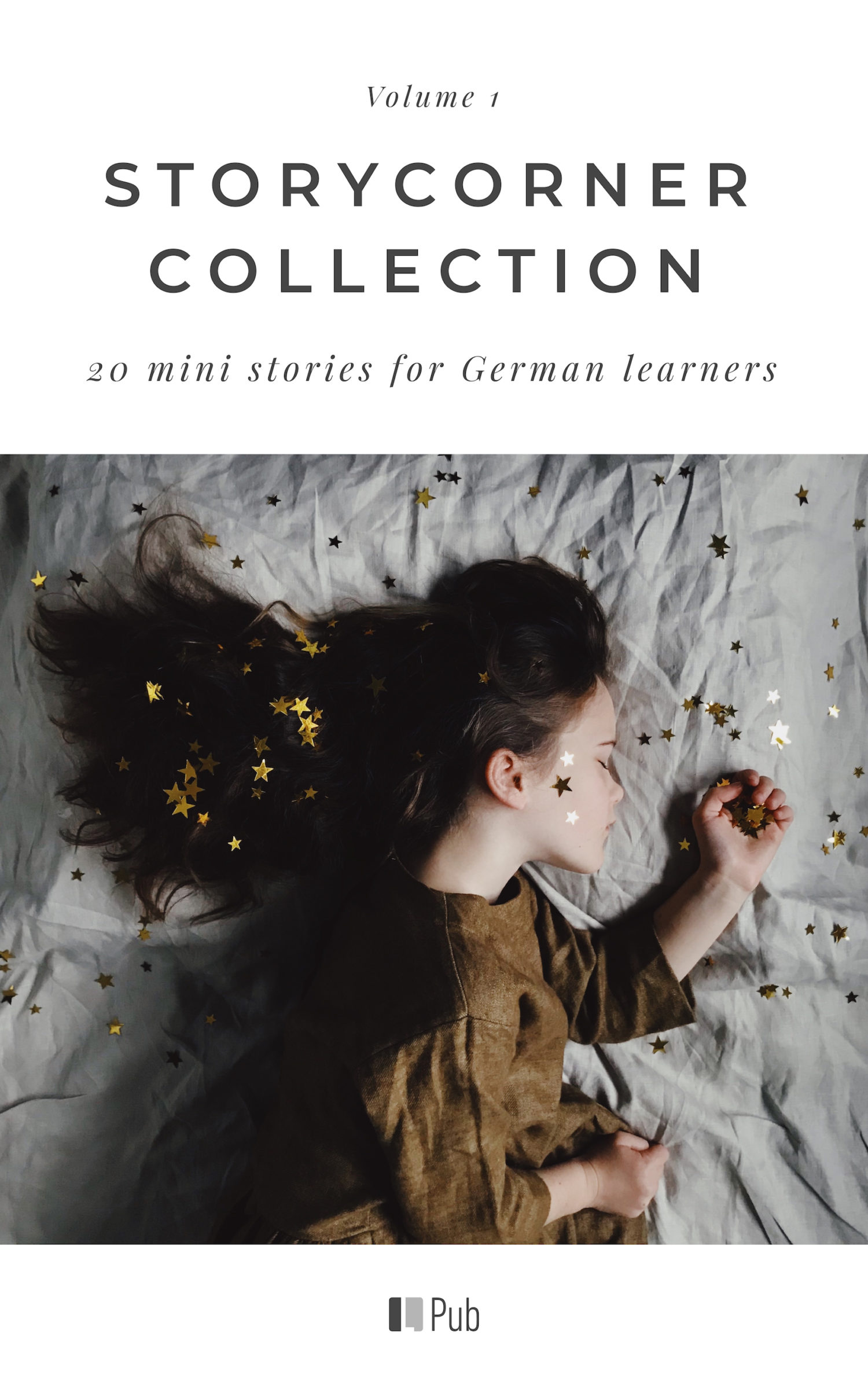 UNSER E-BOOK FÜR DEUTSCHLERNER
Im April 2018 ist eine erste Auswahl der StoryCorner*-Geschichten für Deutschlerner samt dazugehörigen Vokabelerklärungen in Englisch als Anthologie erschienen. Das E-Book "StoryCorner Collection Volume 1" ist bei allen gängigen E-Book-Online-Händlern (z.B. bei AMAZON oder iBOOKS) erhältlich und kostet 2,99 Euro.
"StoryCorner Collection Volume 1. Stories for German learners at levels A2-B1" von L-Pub
ISBN: 9783000534348
*StoryCorner ist der Vorläufer der StoryPlanet-App. Täglich werden kurze Kapitel einer Geschichte per WhatsApp an die Lerner'innen verschickt. Dabei gilt das Motto: 5 Tage, 5 Kapitel, 1 Geschichte.
---
Testimonials zu StoryCorner
WENDY LI
Tolle Idee um den Wortschatz zu vertiefen. Sehr empfehlenswert.
HEIDRUN
This is a wonderful story and I am amazed by these really wonderful new words that haven't crossed my way before. Thank you so much. I am really looking forward to this little treat every day.
SANA SHEIKH
Good for beginners to learn vocabulary, verbs and sentence formation.
TEREZA JAVORNICKA
Ich wollte mich sehr bedanken für die Möglichkeit, sich Kurzgeschichten per Whatsapp zuschicken zu lassen, die Idee ist toll.
BARTOSZ CZERWINSKI
Super Idee, macht Spaß. Meinen Kursteilnehmern gefällt sie auch sehr.
PASCAL KÜHNHENRICH
For all of you who want to improve your German or English. This is the smartest and funniest way I ever heard about. Since I use it myself I can´t wait for my daily WhatsApp lesson. One of the best ideas in 2017. Great!
---
Andere Angebote für Sprachlerner'innen