Engaging stories to build EFL/EAL vocabulary
StoryPlanet is a reading and vocabulary training app for learners who have intermediate to advanced knowledge of English (approx. B1) and are trying to break through to the next level (B2 & beyond). We help them overcome barriers to reading in a foreign language with very short stories and in-context definitions of difficult words. No advertising! No registration! No storage of personal data! Works offline! Learners can try it out for free with our three sample stories.
Get our free teacher's package to use with the three free stories in the app. The zip-file includes instructions for classroom activities, homework assignments and other helpful resources.


---

Get students excited about reading
Imagine your learners having fun building up their English vocabulary! They will with the reading and learning app StoryPlanet English. They read stories, get context-specific definitions for tricky words and then dive deep into the vocabulary that's relevant to them. Try the app out for yourself! Click a button to download the app to your phone or tablet:
---
How StoryPlanet English works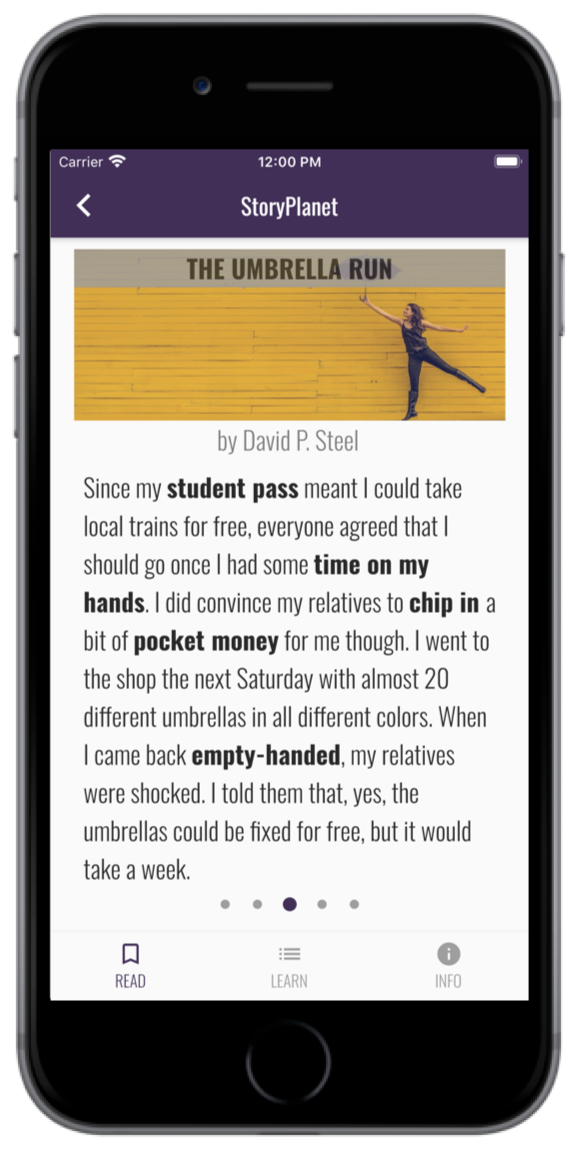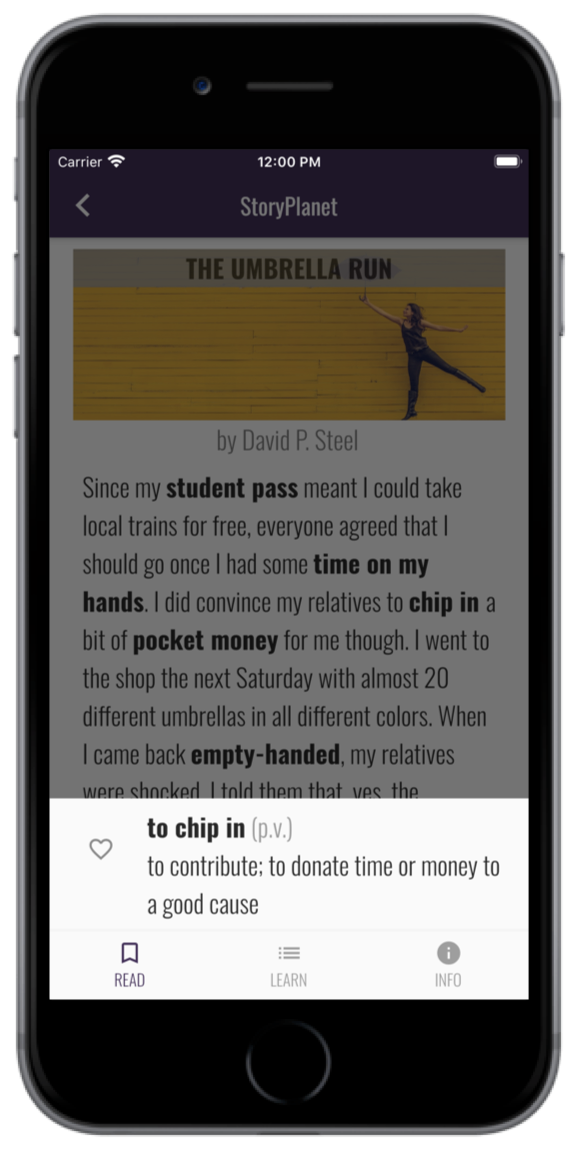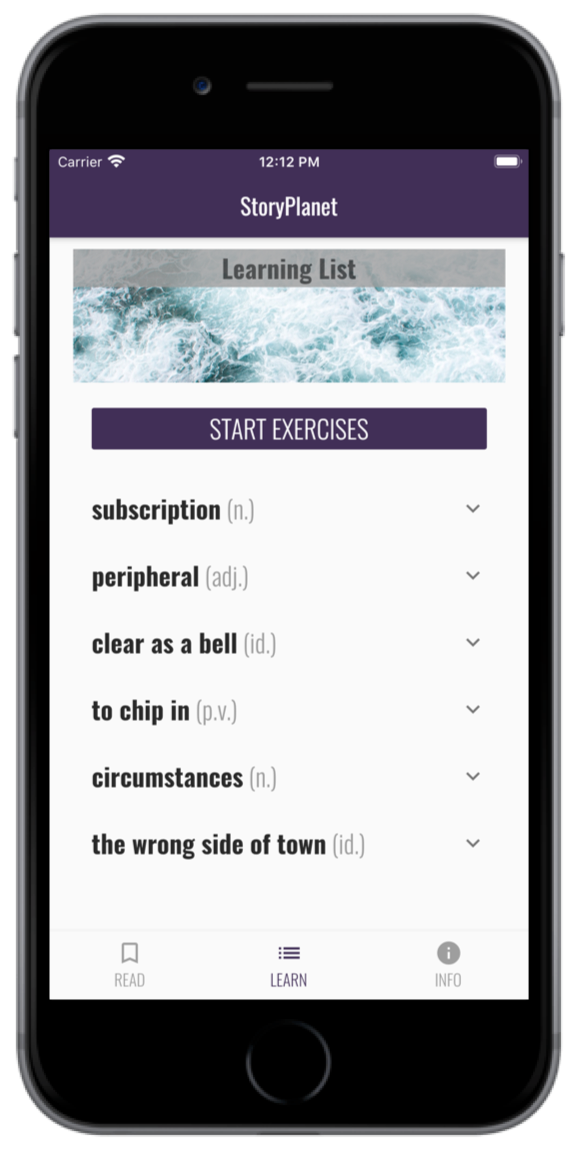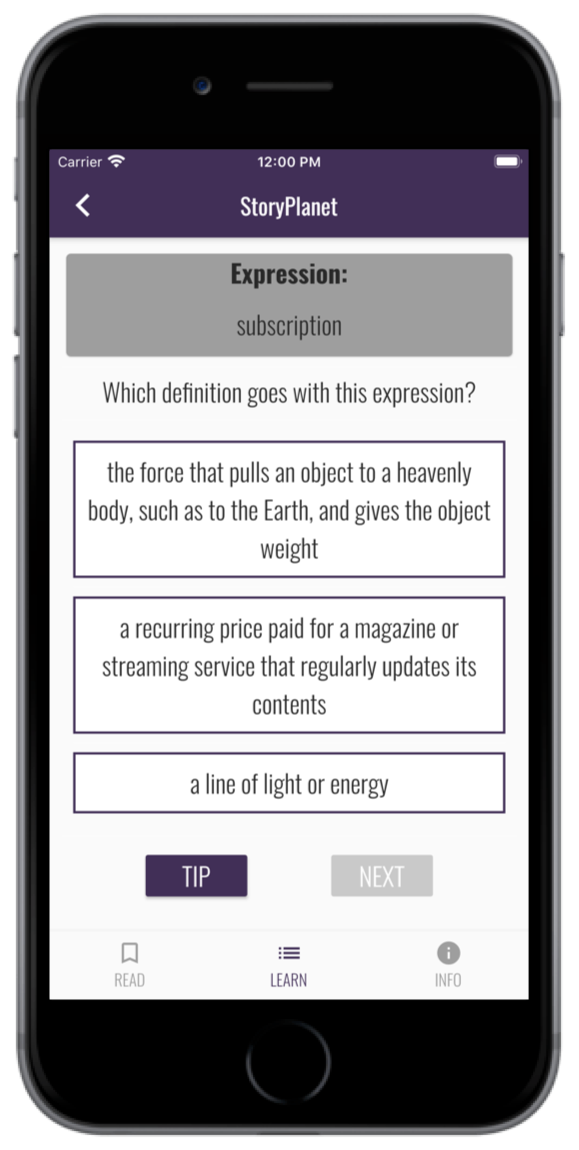 Access to our full library of over 130 stories can be purchased in the app for a one-time fee of apporx. €16 (price varies depending on country, taxes & exchange rate). You can get a significant discount if you purchase a classroom or school license directly from us. Ask us for a non-binding quote.




---
What kind of stories are in the app?
The mini-stories in StoryPlanet are modern, quirky and full of personality. They have been written by experienced writers who are also avid readers and language learners (learn more about our authors). The stories are ultra-short and cover a wide range of genres – from love stories & science fiction to interesting facts & unusual anecdotes from day-to-day life. All stories are also appropriate for young readers and people with different cultural backgrounds. Read our three free stories in full on our page StoryPlanet Stories.
The topics in our stories are all relevant to modern readers and serve as great stimuli for in-class discussion. Explore them as hashtags on our page StoryPlanet Stories. You can also sort stories by learning level, genre and type of protagonist.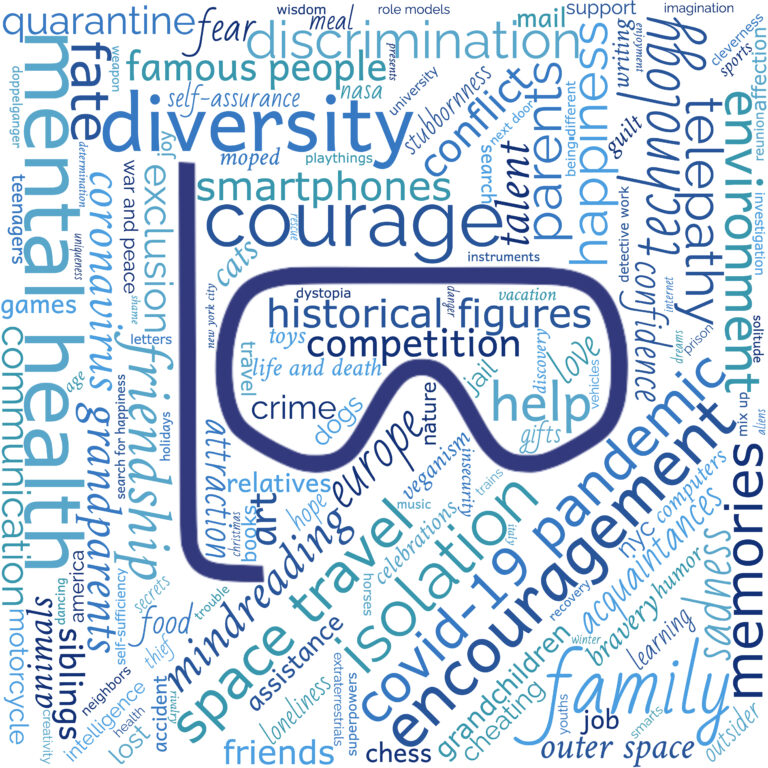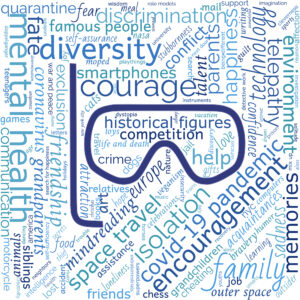 ---
Your EFL/EAL learners will be more motivated than ever about learning vocabulary, as the app provides a safe space for them to explore and practice.
The people behind StoryPlanet English are language teachers, learners and writers. We know from experience that the best way to build vocabulary is by learning words in a relevant context. The mini-stories in the app provide just that: a relevant (and fun) context. And they're short! Every story has 5 chapters. It takes a learner about 1 minute to read each chapter. There are approx. 50 words in bold in each story which are B1 or above and can be chosen for practice.
Anyone can read and learn with our three sample stories in the app for free. Then, with the pro version of the app (approx. €16), learners gain access to a whole treasure trove of over 130 original stories in diverse genres.
Step by step to better English
READ: Your learners choose from different mini-stories. Every story has 5 chapters. It takes about 1 minute to read each chapter.
GET DEFINITIONS: They can click on any word in bold to get a definition in English that matches the meaning in that context.
LEARN: They can then save words they don't know in their personal learning list and practice them in a series of quiz-like exercises.
---
What kind of exercises are in the app?
StoryPlanet English provides a safe space for your EFL/EAL learners to explore reading and to practice vocabulary they are struggling with. Besides being exposed to vocabulary in a relevant and engaging context, they can also choose to practice any word or expression in bold, committing it to memory in a series of interactive exercises. The exercises range from multiple-choice to spelling, and adapt in difficulty to the learner's progress. Here are examples of some of the exercises with the phrasal verb "to turn up".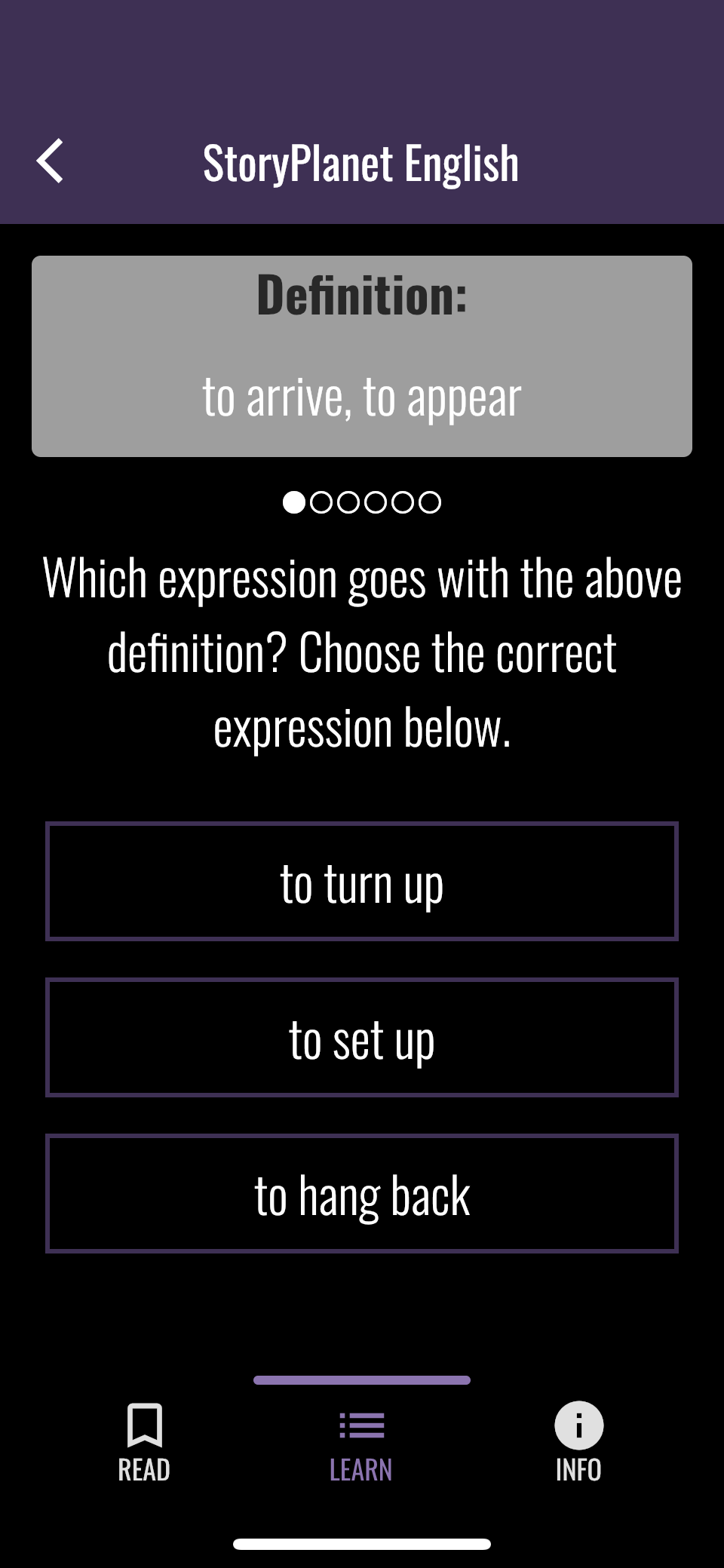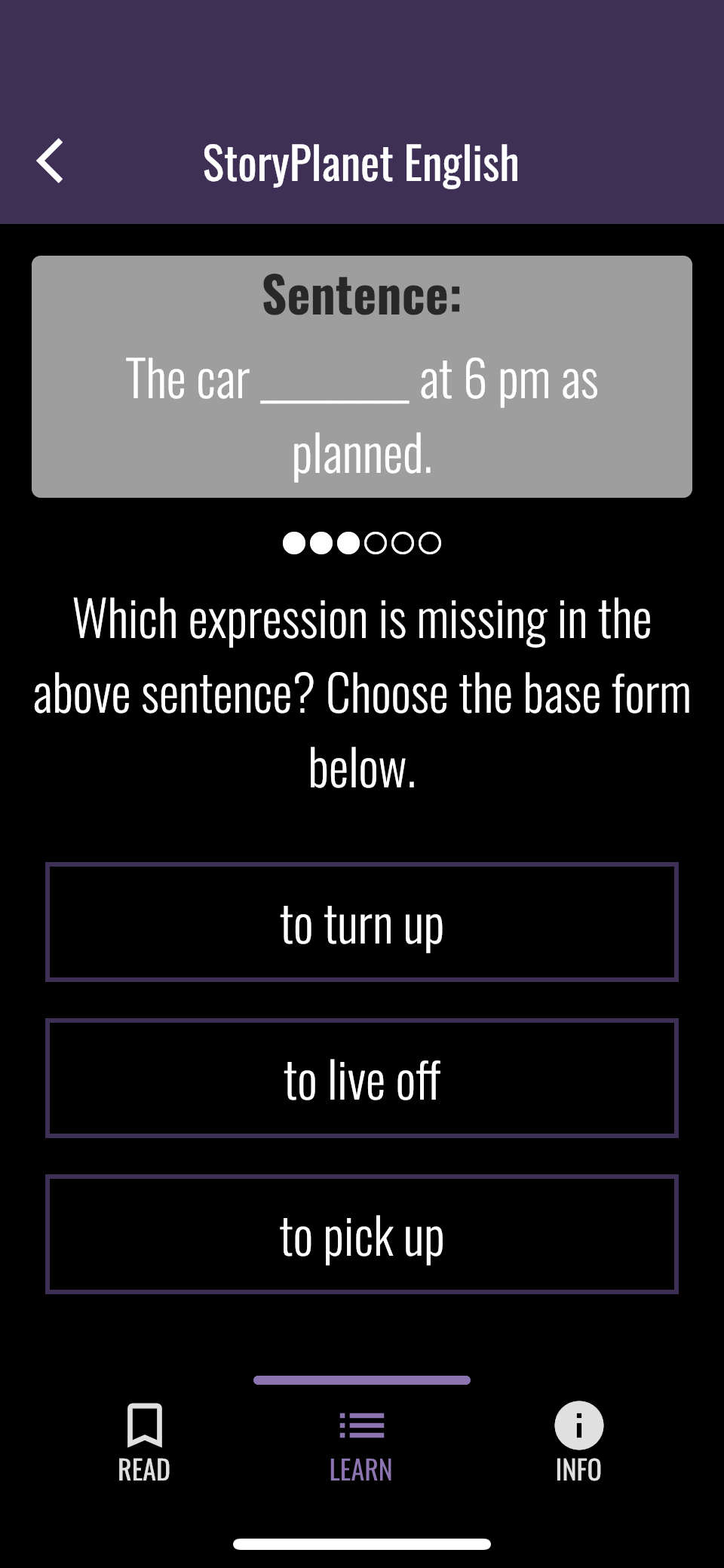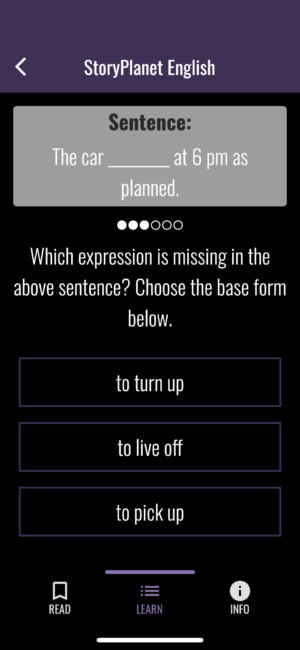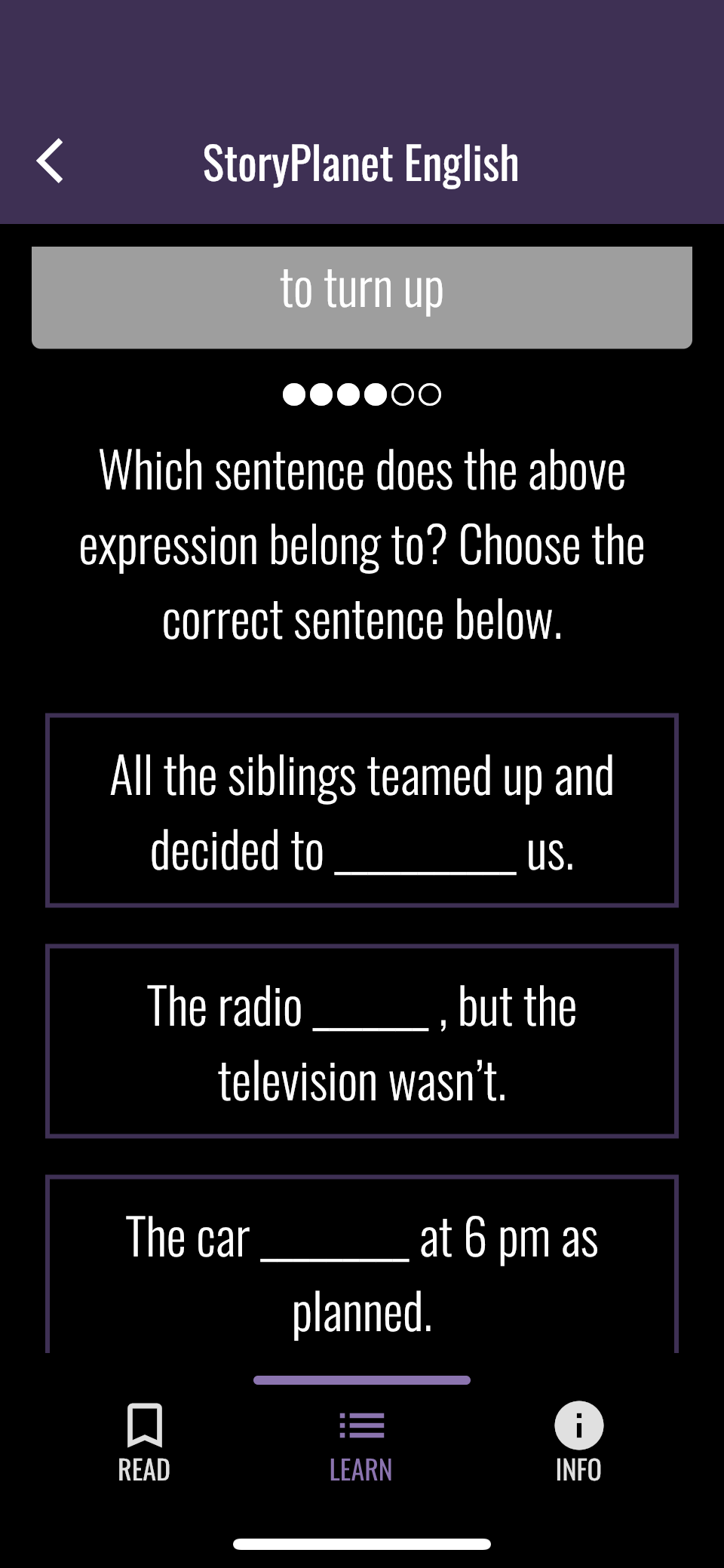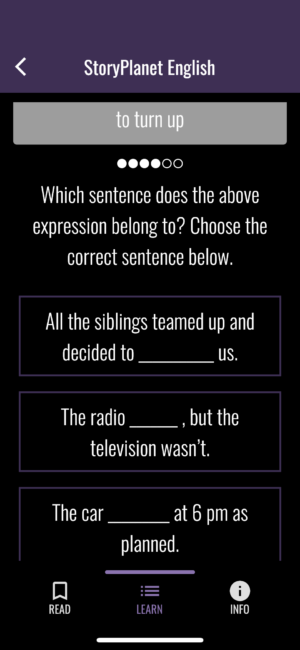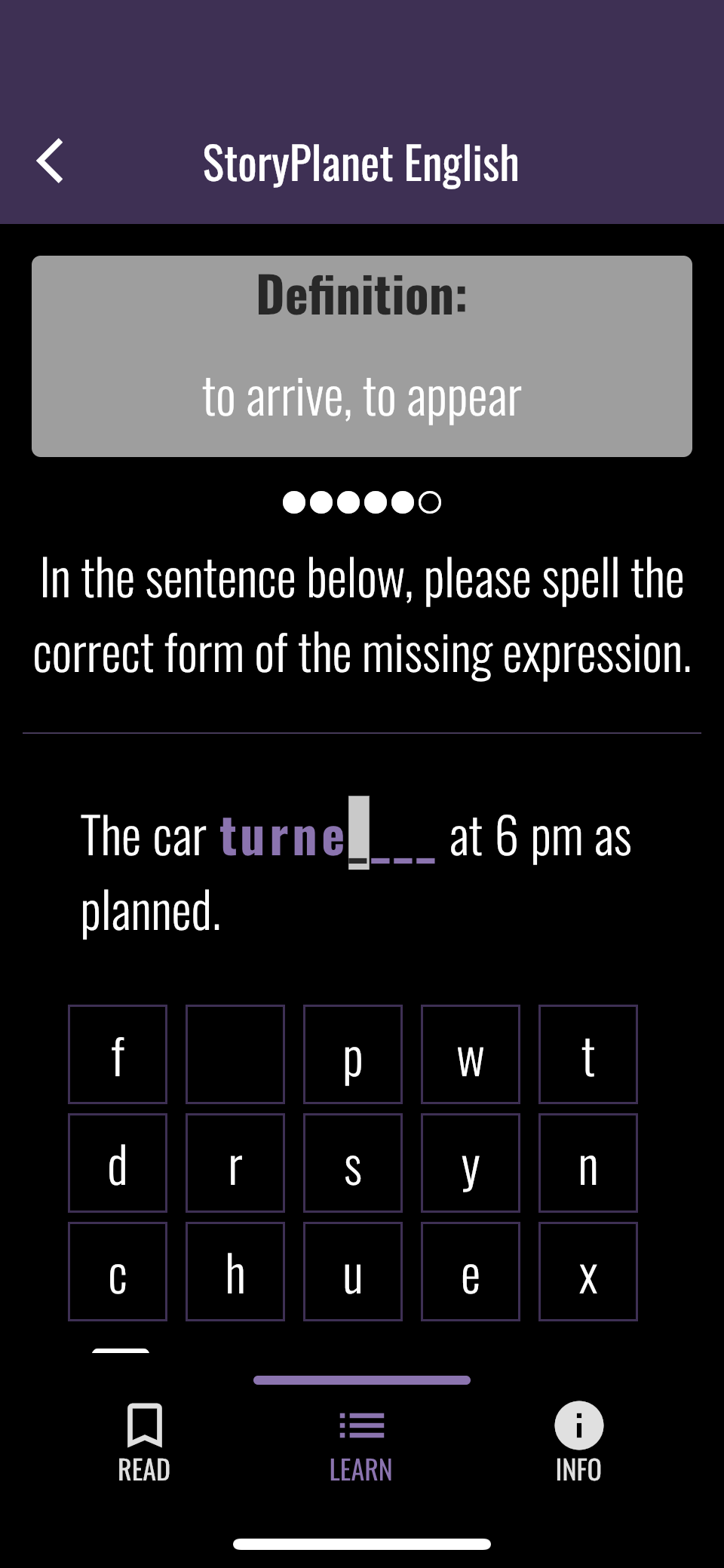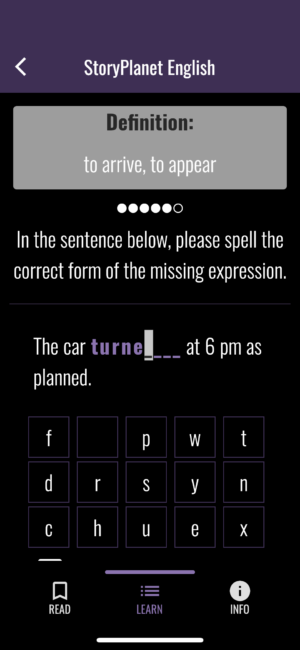 The learner gets immediate feedback if their answer was correct or not, and what the correct answer would have been. They will not move on to a more difficult exercise until they have correctly answered the same exercise at a later time. Once the exercise is correctly answered they will earn a point for that word (seen below the grey box). Each exercise also provides tips in case the learner gets stuck. If you are curious to learn more, ask us for a full presentation on the exercises in the app. Just write us an e-mail using our contact form.
The app is constantly improving, e.g. as we add new features like time-spaced repetition, reading comprehension questions, writing prompts and audio. Already now, it offers learners a highly individualized and contextualized way to build their English vocabulary.
---
Sharing progress
Thanks to the immediate feedback StoryPlanet gives students, it's the perfect tool for them to learn without supervision, e.g. as homework. How do you know your students are using it? At any time, students can share their progress with you via e-mail or WhatsApp. You will receive a PDF showing all the words they have successfully learned over a certain period of time.
For instance, assign them to read 10 stories and learn at least 100 words by the end of the month or semester (approx. 3 hours of learning). That's all you have to do! Once they submit their progress, you see at a glance what they have successfully learned.
---
Using the app in class
Since the makers of StoryPlanet English have also worked extensively as teachers, we have come up with lots of ways you can use the app in class, as well. To see what we mean, just download our free teacher's package to use with the three free stories in the app:


---
Awarded 5 stars by the Educational App Store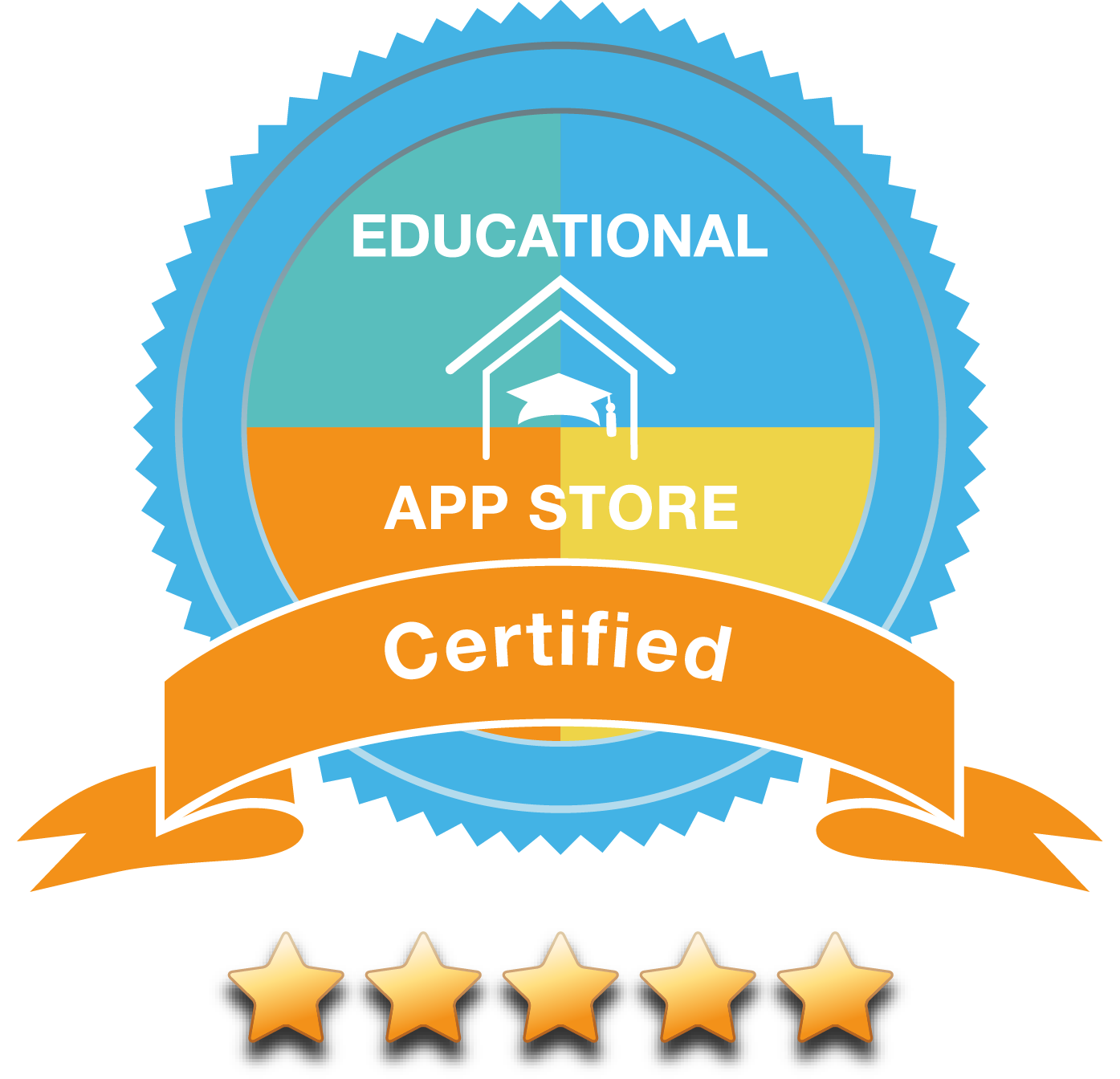 We were thrilled to have received the top score by the independent reviewers at Educational App Store.
Here is an excerpt from their review:
"With StoryPlanet English on their mobile device, students have the means to practice their English skills wherever they are. The stories read well and expose readers to words and phrases that often prove confusing to English language learners. Collecting new words and phrases into a personalized list for later testing is a useful way of creating a custom revision guide. The tests include multiple-choice and missing-word challenges."
Read the full review here.
---
Great offers for teachers
Stay on top of our latest developments. Subscribe to our StoryPlanet newsletter for periodic updates on our products as well as tips for classroom activities.
Book a writing workshop! One of the StoryPlanet writers will come into your class (or join by video stream). It's a great way to motivate your students to engage more actively with the English language, since listening, reading, speaking and writing skills will all be practiced. Write us an e-mail and ask for a non-binding quote.
Get a volume license. Instead of having your learners pay, you can purchase the license for them (starting from 10 licenses). Fill out our form to ask for a non-binding quote.
Follow us on social media:
Download StoryPlanet English now on your Apple or Android device.
Check out our Teacher's Area to learn about our other offers for educators.