---
The new way of learning vocabulary – in context!

Unleash your hidden talent for languages with the learning app StoryPlanet. Read stories. Look up words. Practice only what's relevant to you. Download the app for free and start improving your German now.
Available for iOS & Android.
---
Dive deep into German with StoryPlanet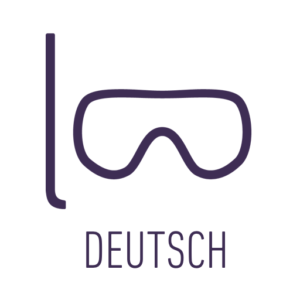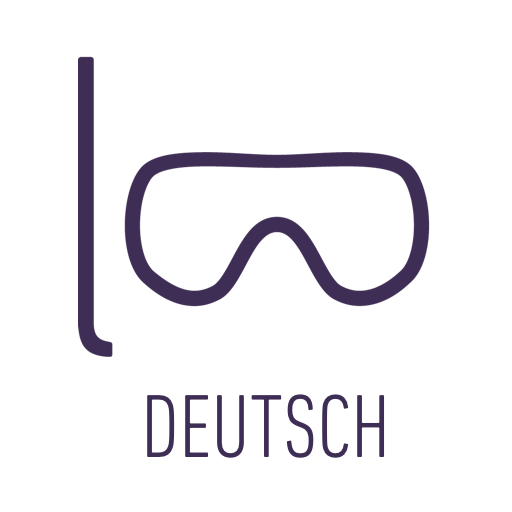 StoryPlanet is an app for learners who have a working knowledge of German (at least A2 / Intermediate Low) and want to break through to the next level (B1, B2, Intermediate High, Advanced & beyond) – with entertaining stories in all genres.
No advertising! No registration! Reading & looking up words is free!
---
How does the app work?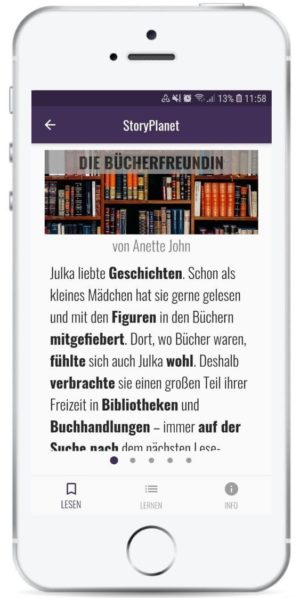 Read weekly stories
(free!)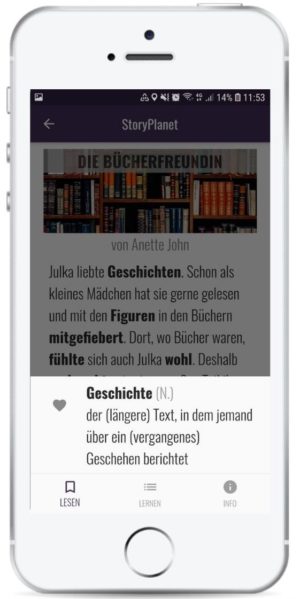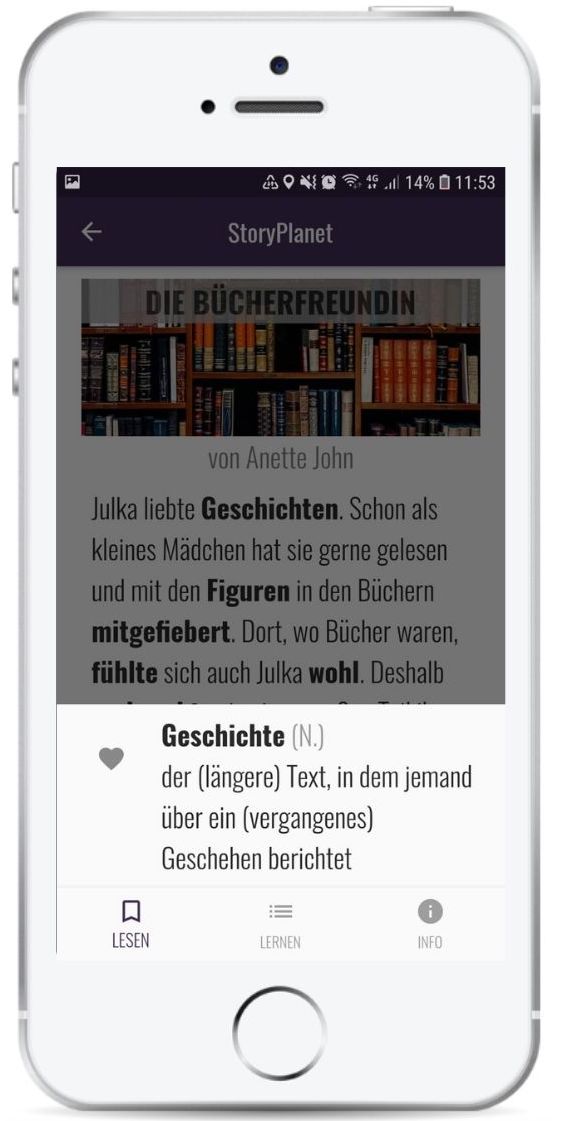 Look up words
(free!)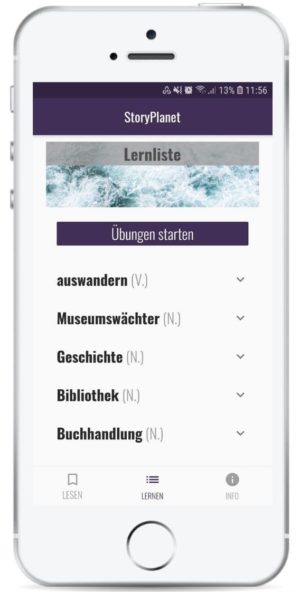 Make a learning list
(pro version*)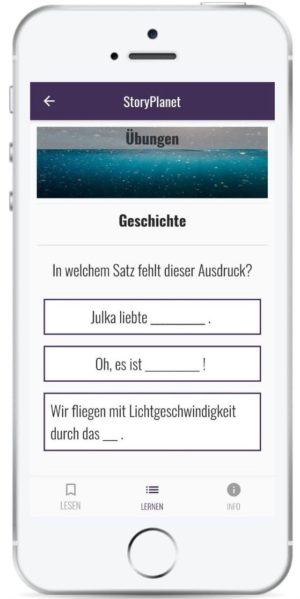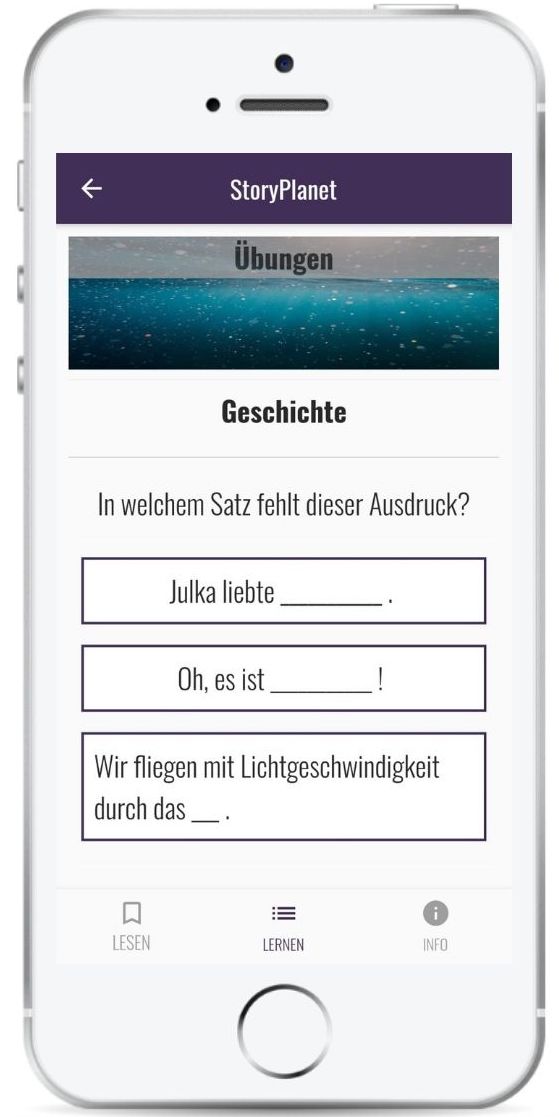 Do cool exercises
(pro version*)
*approx. € 1.99 / month (price varies depending on country & exchange rate)
---
Improve your German quickly by focusing on what matters to you!
Dive into suspenseful stories & individualized learning.
Learning vocabulary is tedious. And usually not very efficient. Our app StoryPlanet solves the vocabulary dilemma!
The best way to build your vocabulary is by learning words in a relevant context. Our weekly mini-stories in German provide just that: a relevant (and fun) context. And they're short! Every story has 5 chapters that you'll get from Monday to Friday. It will take you about 1 minute to read each chapter.
With the pro version you also get individualized exercises – using the same sentences from the stories, so you learn how to use the words in the right context! Plus, you focus only on what is relevant to you and learn the words in a fun little quiz. You can try the quiz for free in the app, with our sample word "Abo".
---
Step by step to better German
READ: Get a short chapter of a mini-story from Monday to Friday every week. A push notification lets you know when a new chapter has arrived (free!).
GET DEFINITIONS: You can click on any word in bold to get a definition in German (free!).
LEARN: Save words you don't know in your personal learning list and practice them in a series of quiz-like exercises. Only in the pro version (approx. €1.99/month).
The best part is, you get new texts every day and you only focus on the vocabulary you don't know, so the app never gets boring. Read and learn German wherever you are. All you need is your smartphone and our StoryPlanet app.
---
Download the app for free and try it out!
---
What kind of stories are in the app?
The mini-stories in StoryPlanet are modern, quirky and full of personality. They have been written by experienced writers who are also avid readers and language learners (learn more about our authors). The stories are ultra-short and cover a wide range of genres – from love stories & science fiction to interesting facts & unusual anecdotes from day-to-day life. There's literally something for everyone! All stories are also appropriate for young readers and people with different cultural backgrounds. Read a few sample stories here.
---
Subscription Terms of Use
The price for the StoryPlanet Deutsch subscription varies depending on country, tax laws and exchange rate. If you reside in Germany, the subscription currently costs €1.99 per month.
When you subscribe, you unlock the ability to save words to your personal learning list, do individualized exercises and get access to more stories. You also support our continuing optimization of the app and development of cool new features.
Please review the following terms & conditions that apply when purchasing the monthly subscription:
Once you have confirmed your purchase, the first month's subscription fee will be applied to your iTunes/Google Play account.
Your subscription will automatically renew unless canceled before the next fee is due, i.e. one month after the day you purchased the subscription and so on (the same day every month).
You must cancel within 24 hours (Google 72 hours) before the renewal time, otherwise it will be extended for one more month.
You can cancel your subscription anytime in your iTunes/Google Play account settings.
Do you have an Apple device?
Learn how to manage your iOS subscriptions.
Do you have an Android device?
Learn how to manage your Google Play subscriptions.
---
StoryPlanet is for …

LEARNERS
StoryPlanet helps you improve your German with stories and an embedded dictionary – making it easier to read and helping you to build vocabulary in the process. Just tap an unfamiliar word to get the definition. With our subscription you can even save those words to a personal learning list and practice them in little quizzes. Reading is a great way to build confidence in your German skills.
TEACHERS
Imagine your learners are excited about reading in German. With StoryPlanet, reading is no longer a chore because learners can simply click on words to get definitions. With our subscription they can also build up a personal vocabulary list and get interactive exercises. Have a look at our Teacher Area for tips on how StoryPlanet Deutsch can be used in the classroom.
COMPANIES
StoryPlanet Deutsch can be licensed by companies to help staff improve their German in their free time. It's fun, effective and affordable. We can also integrate your own content in the app and publish it with your logo. If you're interested, get in touch so we can discuss the different options. Access our contact form here.
---
StoryPlanet Deutsch for Chinese speakers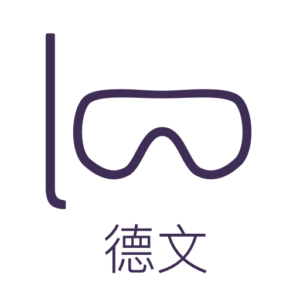 We've also created a special version of the app for German learners in or from China. Currently only for iOS.
---
Are you learning English?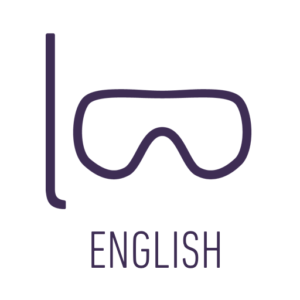 Is your German (nearly) perfect, but you need help getting to the next level of English? There's also a version of our app with stories in English.
---
Stay on top of our latest developments. Subscribe to our StoryPlanet newsletter or follow us on social media!
---
Other offers for language learners