Reading in the digital age is revolutionizing publishing. Based on their experiences on the web and in apps, readers want to interact directly with your text and get meaningful additional information or related entertainment.
Whether you represent a large international publishing house or you are a writer, you are a content owner in the digital age. By definition that means you are faced with two fundamental challenges:
You are competing with an unprecedented amount of freely available content, yet your business is inextricably based on a product that people are willing to pay for.
Your customers want to get additional information at the tap of a finger, but you have no control over the quality of that information and often it takes them outside of your product.
L-Pub has answers to both of those challenges, simply by allowing you to control the reference content in your publications. Your readers get in-context reference content that keeps them in your product and delivers real added value.
The reference content you add could be related to your story (e.g. character descriptions, timelines, maps etc.) or related to the language (e.g. definition, translation, grammar information, etc.), which makes your book available to a whole new audience: the millions of people learning your language right now as a foreign language. Read more about this offer on our page Tools for language learning.
It's a win-win situation: in-context popups set your product apart from free content by adding a deeper level of curation, without compromising the integrity of the reading experience. Perhaps most of all, since our production process is text-based and highly standardized, the time and money you need to invest are calculable and manageable.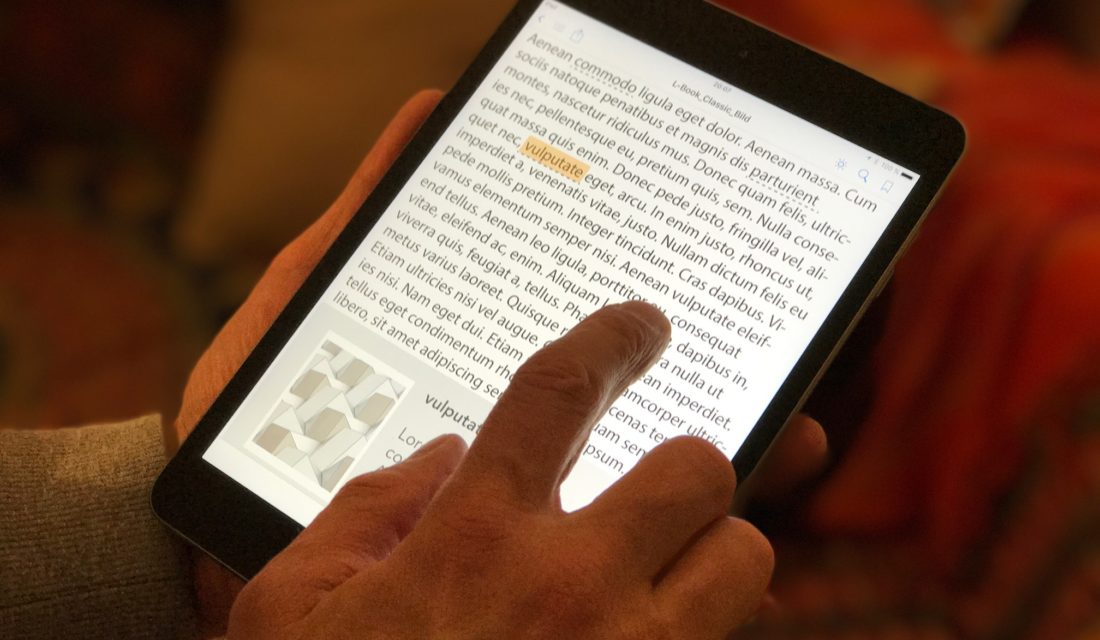 ---
L-Pub services relevant to general interest publishers
Besides converting your content into L-Books (see section below), here are some related services you might be interested in:
Text analysis: We can provide you with detailed information about the complexity and readability of your texts as well as enable you to create new text-based services based on the tokenization of your text. Learn more here.
Termbase services: The content you currently may have in glossaries can be repurposed to create a variety of new products and services. The basis is the creation of a content-specific or subject-specific termbase. Learn more here.
Automatic generation of learning materials: Once a text is annotated and a termbase established, it can easily be converted into a dynamic learning tool, using our series of automatically generated exercises. Take advantage of our software competence to tap into the booming education sector. Learn more here.
White label software: L-Pub has a range of branded and brand-neutral software we are happy to adapt to your Corporate Design and/or integrate into your company IT-landscape. Profit from our deep competence in natural language processing to add value to your brand and product portfolio. Learn more here.
---
Reach new audiences – convert your content to help people learn your language
Most general interest publishers have never considered the fact that your texts may be read by people who don't fully command the language they are written in. Fact is, there are many people who will struggle with the language, but are eager to use authentic texts to improve their language skills. L-Pub provides them with targeted help and help them commit new language to memory through a series of automatically generated exercises.
The demand for authentic reading materials for foreign language acquisition is a booming market. In Germany alone, insider sources measure an annual turnover of over 12 million euros for authentic literature in English, French, Spanish and German.
Thanks to a sophisticated backend developed in collaboration with leading language learning publishers, L-Pub is able to convert your content in a highly automated process.
---
What kind of content is suitable?
Basically any kind of content which people like reading in your language is likely to be popular amongst learners, too. News, novels, non-fiction, niche literature – a learner's interests are as diverse as anyone's interests.
For beginning learners (A1-A2), shorter texts are usually more successful, but the most interesting market for authentic literature is probably B1-B2 learners. Don't worry, you do not need to know which learning level your texts are suitable for. As a part of our L-Book pre-production process, we'll analyze your texts and based on a variety of parameters, we can classify them into the respective learning level.
Even complex literary texts or historic texts can be interesting, especially for higher level learners (e.g. C1-C2). A good mix of different types of genres and lengths is probably the best recommendation for a batch L-Book order.
Learn more on our page Tools for language learning.