Texts of all kinds are used every day in your company. Let L-Pub help you unlock hidden potential in your texts with our natural language processing and termbase tools.

Here are some examples to spark your imagination:
Does your company have large numbers of documents that need to be analyzed for specific content?
Our text analysis tools can provide you with an x-ray view of your documents based on pre-defined terms and phrases, including synonyms and related topics. Learn more about our termbase offer.
Do you want to improve the readability of your FAQs, product descriptions, SOPs or legal texts?
L-Pub can provide you with useful information about the complexity and readability of your texts. Learn more about our text analysis service. You may also create enriched digital texts that offer your readers in-context definitions and/or translations. Read more about this in the section "Informed reading" below.
Does your business have branches in different countries or a large number of foreign employees?
If you'd like to help your foreign staff learn your country's language, take a look at our state-of-the-art, personalized language learning tools (please see the section below "Foreign language acquisition").
Does your staff need to work with industry-specific terminology on a daily basis?
Our termbase services can support the fast uptake of work-related terms in a relevant context, ensuring your new recruits or trainees properly understand and use technical terms. Learn more on our page Termbase services.
Are you an industry leader with a wide range of technical terms that your customers need to understand (or translate) correctly?
You may consider setting up an online reference tool which you give your customers access to for free or for an annual subscription. Learn more about our termbase services.
---
Foreign language acquisition
Many companies provide their employees with language learning offers to help them better adapt to living in a country or a language environment which is not their own. Our products are an ideal way to complement those offers with targeted, technology-driven tools.
Our products for foreign language acquisition offer three essential advantages to learners:
Personalized learning: Since your staff will probably be using our technology in their free-time, it is vital that the learning experience is as user-driven as possible. We merge entertainment with didactics to allow learners to maximize their enjoyment – and results.
In-context learning: Just learning vocabulary without a relevant context is rarely rewarding or efficient. Texts enriched with L-Pub technology provide your staff with a compelling and relevant learning tool. While reading, they can dive deeper into any words or language constructs they are having difficulty with.
Measurable progress: There is no point in offering your staff language learning technology if it does not give them feedback on how they are doing. All learning tools produced by L-Pub give immediate feedback on how the learner is doing as well as track their progress over time. For instance, we can help a learner set and work towards a specific goal, e.g. pass a B1-level test.
The advantages for your company are equally simple and compelling:
Employer branding: By offering state-of-the-art learning technology to your current and future staff, you can considerably raise the attractiveness of your company to recruitees from other countries – and strengthen the loyalty of your current staff. You will maximize this effect if you extend your offer to your employees' families, as well, enabling their smooth and motivating integration into the new location.
Relevant content: By converting your own content (brochures, SOPs, contracts etc.) into enriched texts in a L-Pub app, you not only help your staff better understand your own texts but they will also be able to learn the language based on job-relevant content.
There are a number of ways we can help your staff learn the languages relevant to your company. We'll work together with you on coming up with a package best-suited to your needs, which may include:
A volume license (20+) of our vocabulary trainer app vobot, incl. all the vocabulary needed for foreign language acquisition up to level B2.
A customized version of vobot with company-specific terminology and in your Corporate Design
A volume license to our language learning platform StoryPlanet
A customized reading platform with company-specific content as well as selected other content from our partner publishers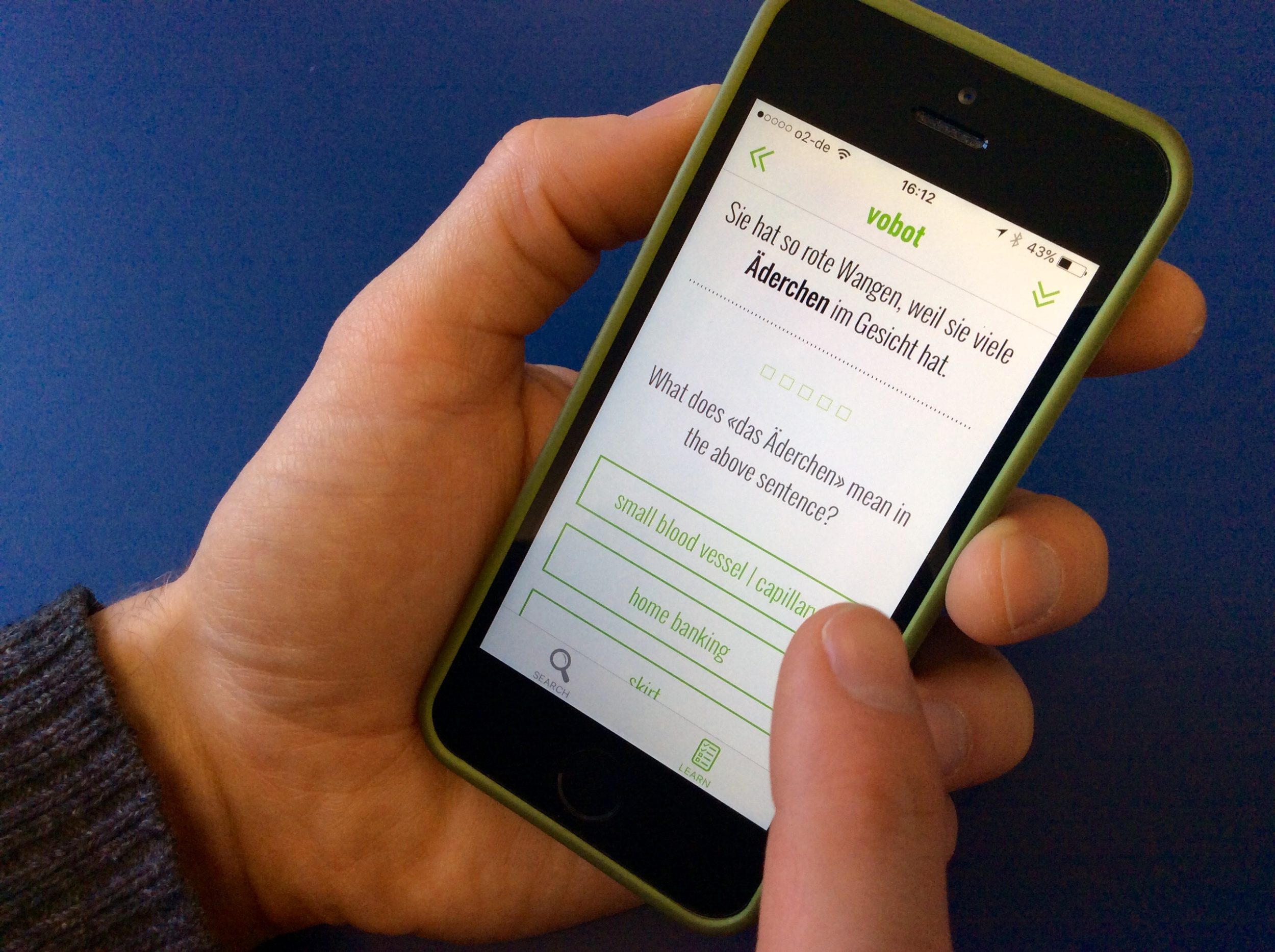 ---
Informed reading
If getting the job done at your company requires your staff to command a high number of specific terms or concepts, L-Pub's tools are an ideal way to support them. The same is true if your clients or business partners need to grasp those terms as well.
You may choose simply to help staff or clients understand terms while reading them digitally (i.e. with relevant in-context information) or actually encourage them to learn the terms or concepts with personalized learning materials.
Either way, our products offer three essential advantages:
Personalized: Everyone brings different background knowledge to their job. In our busy work schedules, nothing is worse than wasting time on things I already know or freezing up due to information overload. Letting your staff or clients choose what is relevant for them to learn will considerably boost their motivation and uptake.
In-context: People are more receptive to new input if they discover it out of curiosity, instead of having it explained to them. An interactive book allows your staff or clients to get information about new terms and concepts immediately when they encounter them in a relevant context, we call this reference content.
Measurable success: L-Pub's apps are an optimal tool for learning scenarios thanks to our feedback-based, adaptive approach. Since L-Pub uses natural language processing to annotate your texts, it requires minimal extra effort on our part to give targeted feedback whenever someone gets stuck. Of course, they (or you) can also keep track of how they are progressing at any time.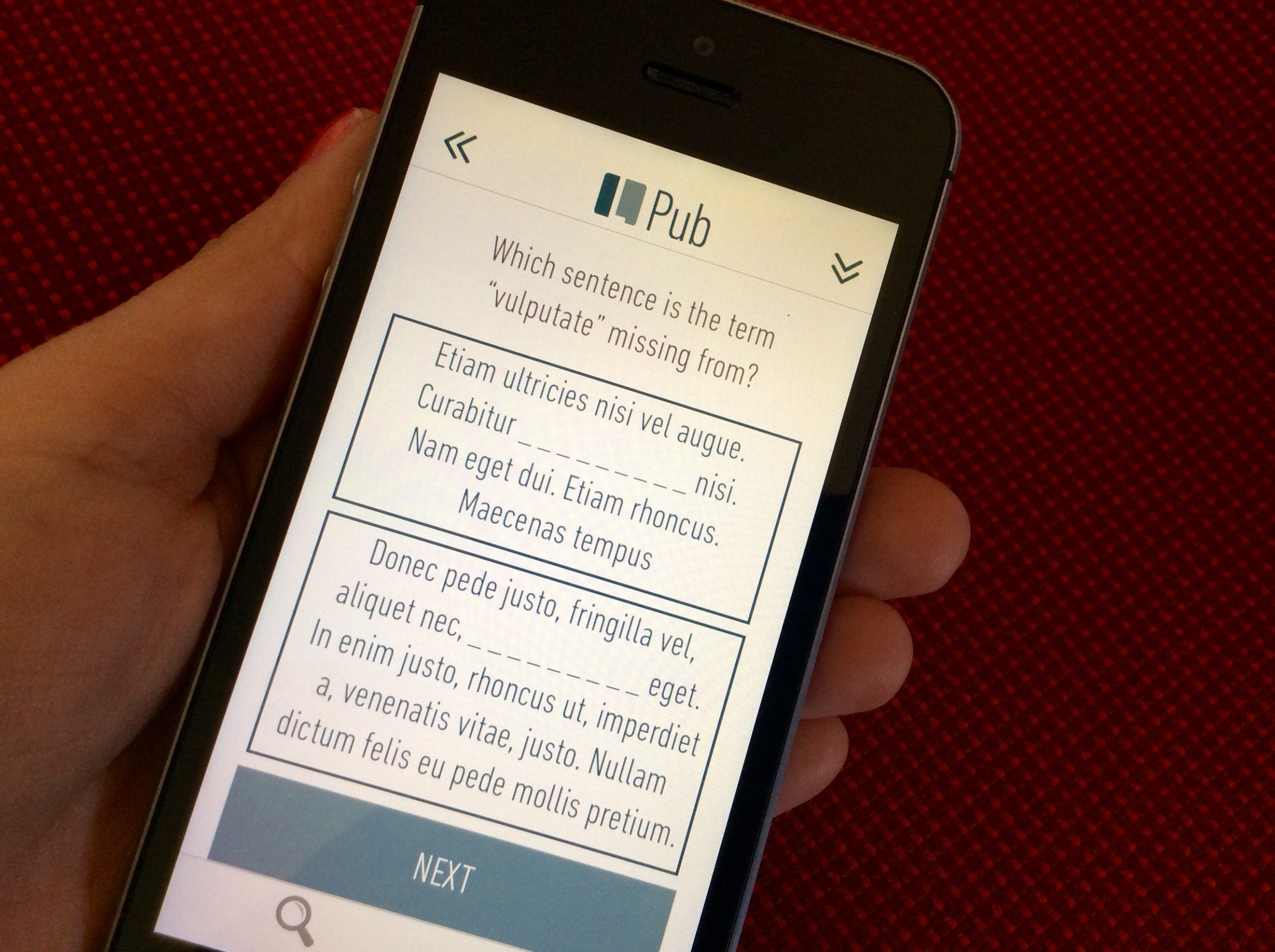 ---
Get a quote
Talk to us about your ideas and we'll work closely with you on a package that aligns well with your budget. Send us an e-mail to get the conversation started.