When your readers want to look something up in your index or glossary, it usually means paging back and forth. L-Book Lex puts all your reference content in an app, keeping your readers on the page.
Reading digitally has its advantages, but it isn't everyone's cup of tea. Yet even readers of paper books will turn to the internet if they want to get further details on something in your text or look up a word they don't understand.
Why not let them look that information up in reference content that you curate? You probably already have this content in the back of your books or in a file on your computer. Learn more about our Termbase services.
L-Book Lex (as in "lexicon") gives your readers a second window on your content, with a wide range of benefits:
Puts all your reference content at your reader's fingertips and easy to find.
Enables them to browse your reference content with an intuitive search function, similar to Google.
Provides them with quality additional content, curated by you, such as context-specific definitions, illustrations and/or audio files (i.e. not random content from the internet).
Lets readers create personalized lists of reference content that they can refer back to at any time.
If needed, your readers can even turn your texts into learning material with our set of automatically generated exercises, For more on this see: L-Book Trainer.

L-Book Lex as an online tool
A unique advantage of having your L-Book Lex available on your website is that it attracts people to return again and again to your website, e.g. to look up terms your are a specialist in or to find out more about the figures in your novels. If you provide access without a login, those texts will also more easily discoverable.
As an online tool, L-Book Lex is an interactive reference tool that attracts users to your website.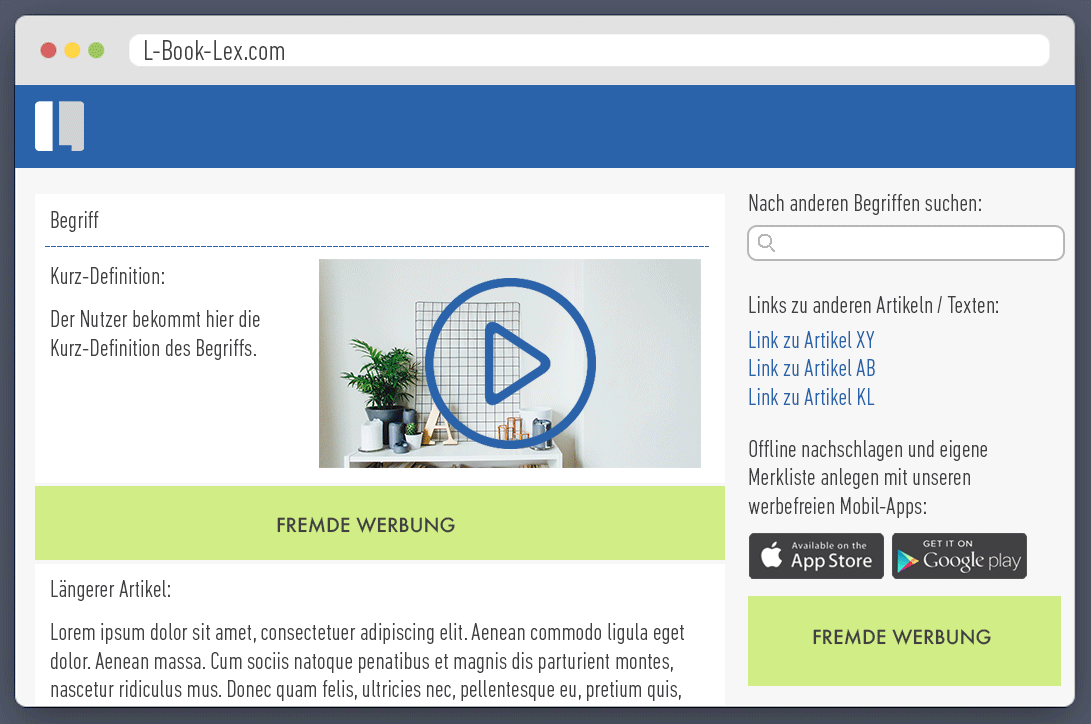 ---
Who is L-Book Lex for?
L-Book Lex is suitable for any publisher with some form of reference content, which may be technical terms, a complex cast of characters, or historical events.
L-Book Lex is also optimal for corporations and public institutes with significant amounts of reference content, but not the business model of a publisher, i.e. with lots of reading content in a standardized form.
The main attraction of the L-Book Lex is that the format of your reading content makes no difference. Whether your content is on the web, in a printed book, in a PDF or in a classic e-book, your readers can access targeted reference content in our brand neutral L-Reader app or a white label version in your app or on your website.
---
How is L-Book Lex different from Trainer, Lite & Pro?
L-Book Lex focuses on reference content without the original text to read in full length. It is a practical accompaniment to a reading text, offering customized, text-specific information on a separate screen.
L-Book Trainer is essentially the same as L-Book Lex with the addition of training functionality.
L-Book Lite  embeds your reference content directly in the reading environment, making it accessible via in-context links. L-Book Classic does not, however, offer your readers the option create lists or personalized learning materials.
L-Book Pro includes all the benefits of both L-Book Lite and L-Book Lex or Trainer, i.e. provides readers with in-context reference content as well as the ability to create personalized learning materials.
---
How does it cost to make an L-Book Lex?
The production costs for an L-Book Lex are calculated based on three variables:
The number of unique words to be annotated
The length of your book
If you deliver the termbase according to specification, or we need to create the termbase ourselves
Check out our ROI calculator to get a rough idea for how many L-Books you need to sell in order to recoup your costs.
---
Get a quote
Are you interested in transforming some of your content into L-Books? Get in touch so we can start the conversation!
---
Further questions
How is an L-Book made? How is an L-Book sold? How is an L-Book read? Get answers to these and other questions on our page "What is an L-Book?"