Your readers love your content because it delivers real value. Yet in our age of digitization, with more and more content available, how can you differentiate your products from "free" or pirated content?
L-Book Lite is a simple and cost-effective way to add meaningful value to your digital products – with in-context information that readers can access at any time. Your readers will enjoy a more immersive and rewarding reading experience not possible in print publications.
For instance, the reader selects a character's name and gets a brief description of the person, possibly even an illustration or photograph. Or a technical term is selected and a definition is provided. We call this "reference content".
As a result, reading becomes more pleasurable, because questions can be answered immediately, without having to refer to another source. How does it work? The reference content is stored in a termbase L-Pub sets up in close collaboration with you, the content owner. Learn more about our Termbase services.
An L-Book Classic can be delivered in the following formats (and therefore sold via existing digital channels):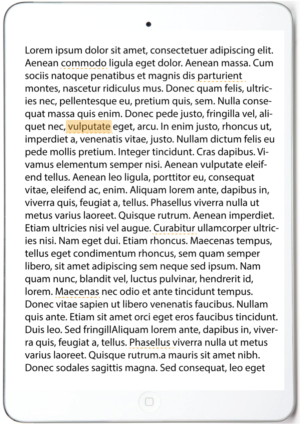 ---
Who is L-Book Lite for?
The L-Book Lite is ideal for content owners of all kinds who want to give their customers a real reason to read digital. Whether they read your content for educational, informational or entertainment purposes, the value add is that you provide them with relevant reference content they can access with a simple click.
If your books tend to have glossaries at the end, an L-Book Classic is the perfect solution, because it brings that information right where your readers need it – while reading. The same holds true for any kind of text used for learning. Other examples are books with complex family relations, historical novels with timelines, scientific publications with Latin names, or technical publications that use many infrequent or new terms.
In a nutshell, this is what an L-Book Lite offers you as a publisher/content owner:
You help preserve the integrity of the reading experience, by providing readers with reference content that doesn't take them away from your text.
You control the reference content in your publications, instead of leaving it up to automatically generated or internet content.
You position yourself as an innovation leader to your existing customers.
You win over completely new audiences, who are on the lookout for a better digital reading experience.
You can sell your L-Books via almost any existing digital channel that offers ePub, MOBI or PDF.
---
How is L-Book Lite  different from Lex, Lite & Pro?
Both L-Book Lex and L-Book Trainer are available as app or online tool, featuring only your reference content without the actual reading text. L-Book Trainer further includes the possibility to create personalized learning materials. Both are an ideal option for people who prefer to read on paper or with an e-reading device and access the additional information on their smartphone or computer.
Once an L-Book Lite is created, it requires minimal extra effort to create an L-Book Lex or L-Book Trainer. The advantage is that it gives your readers the choice. If you choose to produce only an L-Book Lex or L-Book Trainer, your readers will not have the option to access your reference content in the same document as the reading text.
L-Book Pro is a single ecosystem for consuming L-Books with optimized usability for readers and greater control over sales and customer relations for content owners. Unique functions include access to reference content via a discrete pop-up that does not take readers off the page. L-Book Pro also includes the ability for readers to create personalized learning materials out of your content without switching apps or devices. Another advantage is that if there is a change in your content or termbase, an L-Book Pro can be quickly updated and the new version shared with your customers immediately.
---
How much will it cost me to make an L-Book Lite?
The production costs for an L-Book Lite are calculated based on three variables:
The number of unique words to be annotated
The length of your book
If you deliver the termbase according to specification, or we need to create the termbase ourselves
Check out our ROI calculator to get a rough idea for how many L-Books you need to sell in order to recoup your costs.
---
Get a quote
Are you interested in transforming some of your content into L-Books? Get in touch so we can start the conversation!
---
Further questions
How is an L-Book made? How is an L-Book sold? How is an L-Book read? Get answers to these and other questions on our page "What is an L-Book?"