Do you provide learning materials that are more or less manually prepared? L-Pub can help speed up the creation of learning materials by automating the generation of text-based exercises. Your learners will have access to a wider range of learning touchpoints, significantly individualizing the learning process.
Whether as an app or online, L-Book Trainer lets your learners look up words or concepts which are difficult for them and practice them in a series of successively difficult exercises. They get qualified feedback to every answer which really boosts motivation and learning success!
L-Book Trainer offers a number of advantages:
Puts all your reference content at your learner's fingertips and makes it easy to find.
Enables them to browse your reference content with an intuitive search function, similar to Google.
Provides them with quality additional content, curated by you (i.e. not random content from the internet).
Lets learners create personalized lists of reference content that they can refer back to at any time.
Learners can create learning materials out of anything they look up thanks to our set of automatically generated exercises.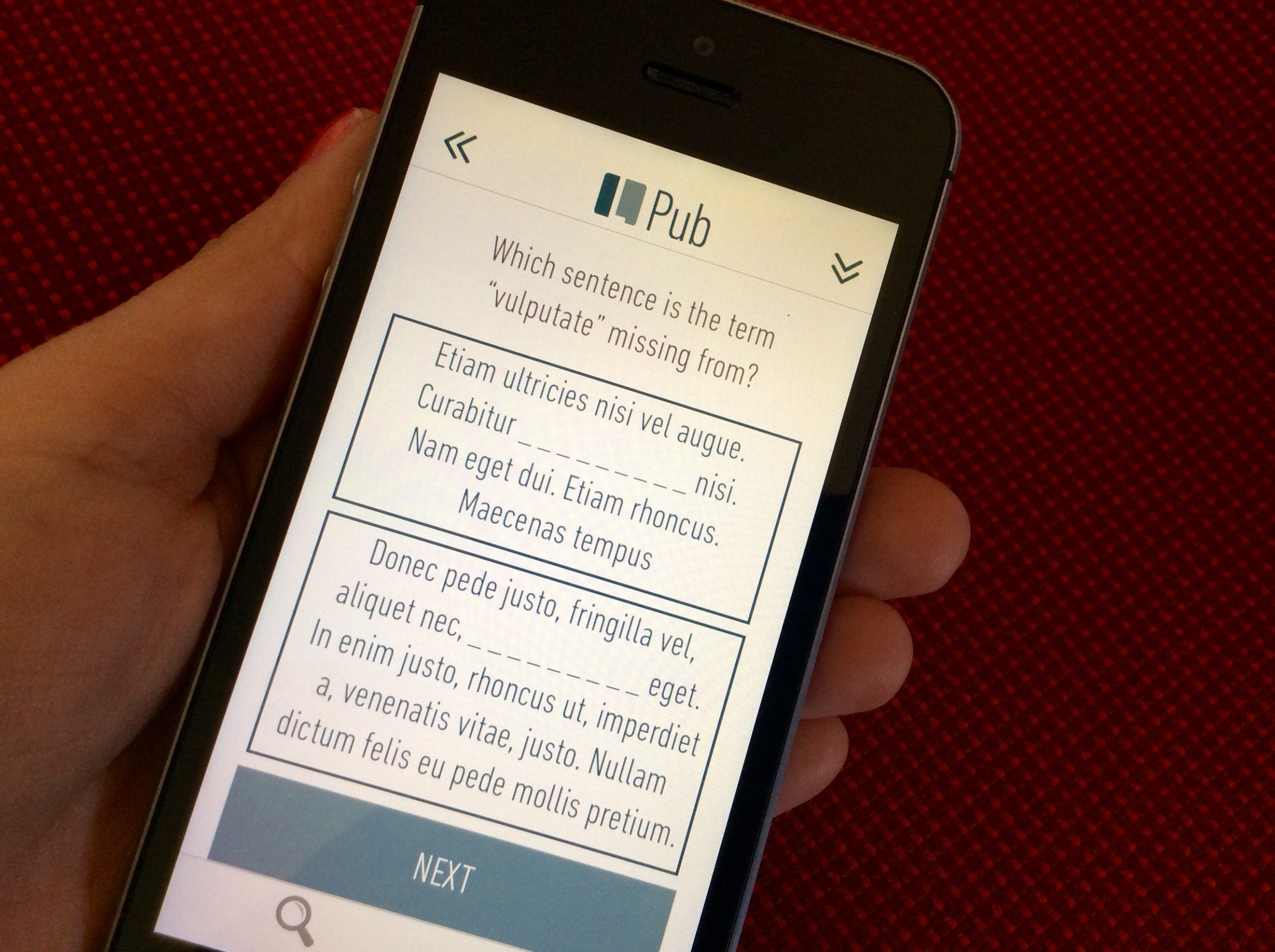 ---
Learning with L-Book Trainer
A unique advantage of L-Books is that anything readers look up, they can also practice in a series of automatically generated exercises. The L-Book production process starts with a deep analysis of your text using natural language processing, resulting in a tokenization of every word in the book. This, matched with an existing or your customized termbase, enables us to create exercises out of any sentence.
The reader simply has to choose a word he wants to commit to memory and the sentence will be used to create exercises with increasing difficulty. The exact nature of these exercises will depend on the learning topic, but they typically consist of two types:
Recognition: The series begins with multiple choice questions based on the selected term, the sentence it appears in and its definition.
Recollection: The more advanced exercises require the learner to fully retrieve the word from memory (without a choice of possible answers), by showing them only the definition or the sentence with the word omitted.
Since the right answer is stored in the L-Book Trainer, we can always give the learner immediate feedback on how they are doing and also gather statistics on their progress, which they and/or an instructor can access at any time.
---
Who is L-Book Trainer for?
L-Book Lite is especially suitable for educational publishers or other content owners with educational materials. The automatically generated exercises give your target groups a highly individualized and state-of-the-art means to intensify their learning success.
The real beauty of the L-Book Trainer is that the format of your content makes no difference. Whether your content is on the web, in a printed book, in a PDF or in a classic e-book, your customers can access auxiliary learning materials in the app or on your website.
---
How is L-Book Trainer different from Lex, Lite & Pro?
L-Book Lex focuses on reference content without the personalized learning materials of L-Book Trainer. It is a practical accompaniment to a reading text, offering customized, text-specific information on a separate screen.
L-Book Lite embeds your reference content directly in the reading environment, making it accessible via in-context links. L-Book Classic does not, however, offer your readers the option create lists or personalized learning materials.
L-Book Pro includes all the benefits of both L-Book Trainer and L-Book Lite, i.e. provides learners with in-context reference content as well as the ability to create personalized learning materials.
L-Book Trainer is typically included as a part of the L-Book Pro and L-Book Lite packages, in order to cover readers who do not want to read digitally or who prefer to access certain functionalities on a separate screen.
---
How does it cost to make an L-Book Trainer?
The production costs for an L-Book Trainer are calculated based on three variables:
The number of unique words to be annotated
The length of your book
If you deliver the termbase according to specification, or we need to create the termbase ourselves
Check out our ROI calculator to get a rough idea for how many L-Books you need to sell in order to recoup your costs.
---
Get a quote
Are you interested in transforming some of your content into L-Books? Get in touch so we can start the conversation!
---
Further questions
How is an L-Book made? How is an L-Book sold? How is an L-Book read? Get answers to these and other questions on our page "What is an L-Book?"