As the name implies, L-Book Pro enables a higher level of sophistication and gives content-owners greater control over how their content is presented and sold. L-Book Pro requires your customers to use a dedicated L-Reader, which may be an app or a password protected website.
L-Book Pro merges the functionality of L-Book Lite and L-Book Trainer in one ecosystem, providing your customers with four main benefits:
User-friendly access to information: When your customer selects annotated words in your text, a corresponding pop-up appears with relevant reference content. In contrast to L-Book Lite, your readers access this information without being taken off the page.
Ability to save lists: Your customers can save the words they've looked up in a personal list they can access at any time.
Regular updates: Any time content changes, your customer gets an update, so they always have access to the most recent information.
Easy purchase of related content: Since the L-Book Pro is an ecosystem you control, you can offer new or related products to your readers and they can purchase it directly in the app.
For educational publishers, your customers also benefit from interactive learning components within the L-Book itself (no need to switch to another app):
Practice: Automatic generation of exercises with the chosen word in the same sentence in which they've just seen it.
Learn: The series of increasingly difficult exercises all provide immediate feedback on whether the input was right or wrong. That means learners aren't left guessing if they are really making progress or not. The exercises also adapt to the learner's success, helping ensure they don't feel overwhelmed or underwhelmed as they move forward in their personalized learning journey.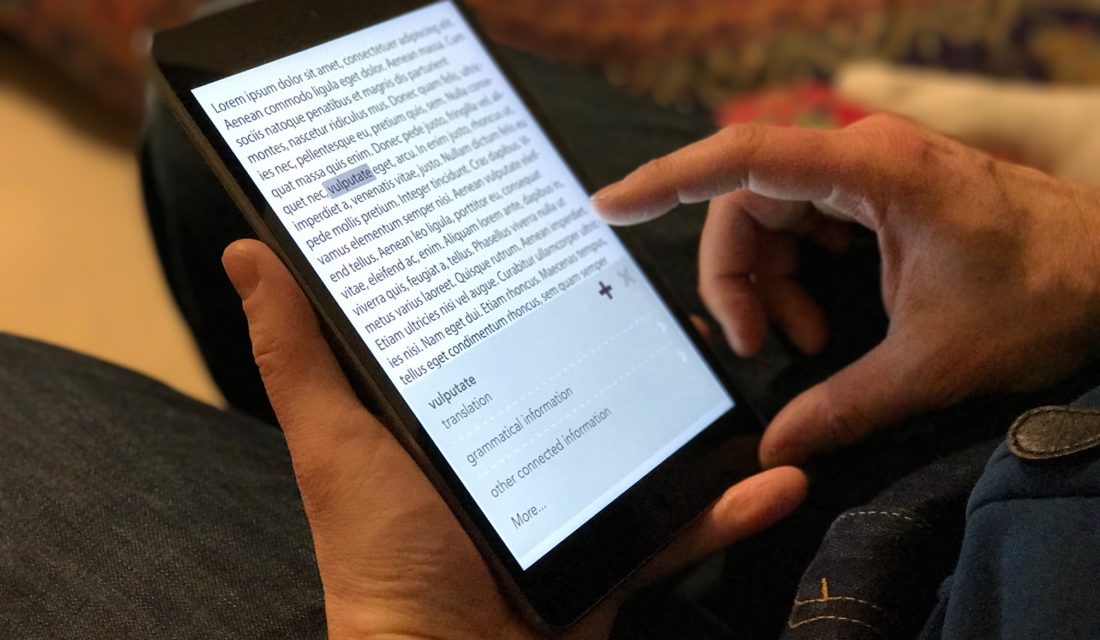 ---
Who is L-Book Pro for?
L-Book Pro is the optimal solution for content-owners who want to offer their customers a premium reading experience without the high cost of customizing the content manually. Thanks to the high level of automation enabled by L-Pub, we help you curate and define the extra levels of information and interaction in your digital products in a streamlined and standardized process. Learn more about our Termbase services.
You can read more about our specific offers for different types of publishers on these pages:
Whether integrated into your own digital platform or distributed via a brand-neutral app, such as our L-Reader, L-Book Pro offers a number of advantages to content-owners:
You can provide targeted, context-specific information where and when learners need it – as they are reading your content.
You can curate the reference content in the L-Book Pro to ensure it aligns with the quality standards of your publication, instead of having your readers browse the internet or access open source information which may be wrong or misleading.
Lower or no third party (e.g. shop) fees
Ability to engage in a direct relationship with your customers
Possibility to collect and analyze user statistics, e.g. how they interact with your reference content, enabling you to offer them targeted additional products or services
Predictable future, as the ecosystem is operated either by yourself or by us on your behalf
Easy updating of your termbase or content at any time, which can immediately be passed on to your customers
Additional benefits for educational publishers include:
You profit from our set of automatically generated exercises, created on-the-fly out of your content when a learner taps the plus symbol.
By providing learners with reference content within the text itself, you preserve the integrity of the reading experience for better concentration and intuitive learning.
You support discovery learning, letting learners have more control over how they access instructional information.
Easy integration into an existing LMS.
The main advantage is, your customers will experience a more immersive and rewarding learning experience, not possible in print or traditional e-books.
Talk to us about your content and let's explore how we can transform it into a user-driven learning experience.
---
How is L-Book Pro different from Lex, Trainer & Lite?
L-Book Lex includes only the reference content – without a reading text. L-Book Trainer adds the function of personalized learning materials. Both are practical for people who prefer to read on paper or with an e-reading device and access the learning mode on their smartphone or computer.
L-Book Lite features only the reference content within the reading environment, without the option of creating personalized lists or accessing personalized learning materials. The reference content in an L-Book Lite also does not appear as a pop-up on the same page, but links the reader to a separate page (similar to when they refer to a glossary). The user experience is therefore less satisfying that with an L-Book Pro which uses pop-ups that do not cover up the reading text.
---
Further questions
How is an L-Book made? How is an L-Book sold? How is an L-Book read? Get answers to these and other questions on our page "What is an L-Book?"