People buy your publications to deepen their knowledge in your area of specialty. Give them access to even deeper levels of knowledge by converting your content into L-Books.
Whether your publications contain lots of technical terms, cross references or complex concepts, you should aim to satisfy your readers' natural curiosity within your product itself. If they start looking up words on the internet or referring to other sources, they are no longer engaging with your product and you risk compromising their loyalty to your brand.
When you convert your content into an L-Book, you keep your readers on the page, offering them in-context information right where they need it – and expect it. Since the reader's interaction with the information is user-driven, they only access your reference content when they want to, so it's never in the way and the integrity of the reading experience is upheld.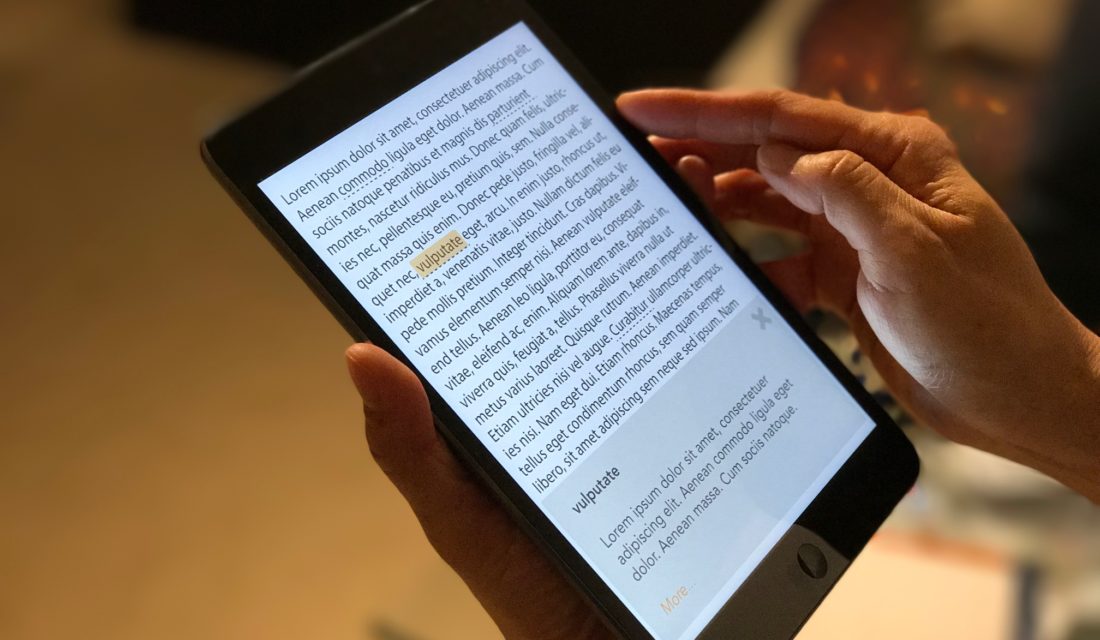 ---
Which type of L-Book is best for you?
We recommend L-Book Lite if your main aim is to offer your readers curated in-context information, without the option of creating personalized learning materials out of them. All you need to do is organize the reference content in a termbase according to specifications we'll provide you with. L-Book Lite has limited functionality but can be sold via all major e-book channels.
L-Book Pro gives your readers the option of adding words to a personalized learning list and, whenever they want to, testing their knowledge via a series of automatically generated exercises. L-Book Pro gives your readers the same reference context as in the L-Book Lite, but instead of it appearing on a separate page, it appears in a pop-up without covering up the reading text. An L-Book Pro can only be read online or in a specific app, which – as an added benefit – enables you to communicate and sell directly to your customers.
For readers who prefer paper books or traditional e-readers, L-Book Lex gives them the opportunity to access the reference content in a companion app or online. L-Book Trainer adds the functionality of individualized exercises.
---
Why offer learning tools?
The demand for educational materials around the world is unabated. As a technical or specialist publisher with best-selling titles, converting them with L-Book Pro means you can:
Reach new audiences
Profit from the booking market for education
Meet growing demand for authentic contexts
Provide in-context exercises for discovery learning at the cutting edge of current technology
Learn more about the sophisticated learning tools in the L-Book Pro on our page Automated learning.
---
How much does an L-Book cost to produce?
Thanks to our streamlined, standardized process for L-Book production, we can create a customized digital product for you for much less than you might expect.
You can use our ROI calculator to get a rough idea about costs and how many L-Books you would need to sell to start making a profit.
---
Other L-Pub services relevant to specialist publishers
Besides converting your content into L-Books, here are some related services you might be interested in:
Text analysis: We can provide you with detailed information about the complexity and readability of your texts as well as enable you to create new text-based services based on the tokenization of your text. Learn more here.
Termbase services: The content you currently may have in glossaries can be repurposed to create a variety of new products and services. The basis is the creation of a content-specific or subject-specific termbase. Learn more here.
Automated learning: Once a text is annotated and a termbase established, it can easily be converted into a dynamic learning tool, using our series of automatically generated exercises. Take advantage of our software competence to tap into the booming education sector. Learn more here.
White label software: L-Pub has a range of branded and brand-neutral software we are happy to adapt to your Corporate Design and/or integrate into your company IT-landscape. Profit from our deep competence in natural language processing to add value to your brand and product portfolio. Learn more here.
---
Get a quote
Talk to us about your ideas and we'll work closely with you to draft an offer that aligns well with your budget.